LESS THAN 2 WEEKS REMAINING TO REGISTER A TEAM FOR SUMMER LEAGUE
All teams planning on participating in our Summer Leagues has 3 weeks to complete registration. Summer league registration closes on May 6, 2011 so don't miss out and register now.
How to Register

Registration is done online at www.tuc.org. Click the How to Register icon for instructions on how to get started. Also, check out the Leagues – 2011 Registration Information pages for more information on our memberships. For information on Spring and Summer Leagues, check out the links under 'Leagues'.
Key Registration Dates
May 6
Summer Leauge Team Registration CLOSES
May 16
Summer Individual Registrationi CLOSES
May 18
Summer League Captain's Meeting
2011 Summer Leagues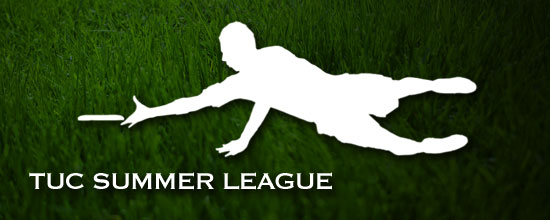 Summer League information is now posted on our Summer League General Info page and our Summer League Registration page.
Team fees for Summer League will be $850 per team and individual fees (for those who want to register as a solo player on a hat team) are $65 per person. The cost for a game on a per-player basis for the summer is an average of $4 per person. Summer season is 15 guaranteed games, co-ed 7-on-7, games to 17, full field.
Captain's Meeting
The Captain's meeting will again be held Wednesday May 18th, at Whistlers Bar and Grill (Broadview and Mortimer) in The McNeil Room. This meeting is for ALL weeknight summer teams. Each team captain MUST attend the full duration of the meeting or send a team rep in their place. Any team who does not adhere to these requests may be penalized – expect the majority of your games to be on lesser desired fields if you do not attend the captains meeting!
---
PICKUP FRIDAY AND PUB NIGHTS!

On 8 selected Fridays starting May 6th TUC will be hosting pickup Ultimate Frisbee at Upper Canada College from 7:00 PM to 8:30 PM.
Players of all skill levels (even if you haven't played before) are welcome and encouraged to attend. This is a great and fun way to learn the game, work on your skills, get a little exercise and to meet new people, including your fellow TUC members. After working up that sweat on the field head down to a local establishment for food and drinks.
For more details and dates visit our Friday UCC Pickup news article on the website.
---
2011 SPIRIT HAT TOURNAMENT

Spirit Hat Tournament - May 28th, 2011
The Spirit Hat tournament is an opportunity to gain an in depth understanding of Spirit of the Game (SOTG) which is vital to the game. This involves an explanation of SOTG, group discussions on how to demonstrate and improve spirit, followed by role-playing. Experienced players share their knowledge with less experienced players and all have the chance to demonstrate their spirit in several games. Some games include Spirit challenges and unique rules
Event Details
Dates: May 28th, 2011
Times: Saturday 9am-4pm
Location: Sunnybrook Park
Format: 7-on-7 co-ed regular pull format
Level of Play: all skill levels welcome (expect a mix!)
Cost: Free to TUC Members; $20 for Non-TUC members
Contact: events@tuc.org
The Ontario Disc Sport Association (ODSA) is currently seeking input from its Ontario Clubs and players, including the touring community, in order to effectively respond to the needs of Ultimate players province wide. Please view the ODSA's plan to grow the sport of Ultimate in Ontario.
If you'd like to post feedback to the ODSA or be involved on their committee, please respond to the forum/discussion group on the ODSA website, www.ondisc.org.
---
We are pleased to announce the appointment of Nina Ramic to the position of Administration & Events Coordinator for the TUC. Nina was previously our Events Manager in 2009 and did an outstanding job. She recently graduated from Western with a Bachelor Degree in Medical Science and will be pursuing her medical career in the fall. Until then, she is back on board to help us execute events and support the TUC membership. Nina can assist you with any registration problems or questions about the Club and/or volunteering. As well, she will be a regular TUC league and touring participant this summer!
The TUC will be looking to hire a full-time individual to assume the AEC position at the beginning of September. Stay tuned for more details.
Welcome back Nina, it's going to be a great summer! You can reach Nina at admin@tuc.org
Last week saw the conclusion of our Winter Indoor season with the finals to our Monday and Tuesday Lamport leagues. Congrats to all winter league champions. Spring leagues are in full spring and there are still spaces available for both teams and individuals for the summer league.
2011 Monday Elite Champions
Pranksters

2011 Monday Competitive Champions
Hammer Hawks

2011 Monday Recreational Champs
Little Guys

2011 Tuesday Intermediate Champs
Friendship



---
Follow Us:
<iframe style="border-bottom: medium none; border-left: medium none; width: 120px; height: 21px; overflow: hidden; border-top: medium none; border-right: medium none" src="http://www.facebook.com/plugins/like.php?href=http%3A%2F%2Fwww.facebook.com%2Fpages%2FToronto-Ultimate-Club%2F189092547779744&layout=button_count&show_faces=false&width=120&action=recommend&font=tahoma&colorscheme=light&height=21" frameborder="0" allowtransparency="allowtransparency" scrolling="no">
---
WHISTLER'S 30TH ANNIVERSARY CELEBRATIONS
You have been invited by our friends at Whistler's Bar & Grille to stop by from April 27-30 in celebration of their 30th Anniversary in business. Stop by and enjoy amazing food, great music & spectacular hospitality all in their newly remodelled surroundings! Click the image below for more information.