CLUB NEWS
(click link for full article)
•
Junior Girls Clinic Series still accepting registrations!
•
2011 Spring and Summer Registrations Opens March 14
•
UCC Pickup
January Volunteer of the Month – Kevin Vigar
Kevin Vigar is the TUC Volunteer of the Month for January 2011. Kevin is our winter men's league convener and a newly annoited board member who took part in the Human Resource Committee's efforts retain the TUC staff for another year.
A big thanks to Kevin for all his help.
Support your Club by volunteering, it's how TUC was born and how it thrives today. Contact volunteers@tuc.org for more information.
---
TUC CALL FOR VOLUNTEERS
TUC needs your help. We have a number of committees that could use a few more enthusiastic bodies, with the goal to continue furthering the Club's success.
If you are interested in helping out and putting your stamp on TUC please contact volunteers@tuc.org letting us know what you would like to do to help.
Each V.O.M. will receive $50 Scally's Dollars that can be used towards any purchase at Scallywags.
TUC WELCOMES A NEW STAFF
Please join us in welcoming Nurit Werchow, our new Administration & Events Coordinator, to the TUC team! Nurit will manage registrations for the TUC, office administration, and coordinate TUC events throughout the year. She is currently at the office several days each week and will fulfill more fulltime hours in the Spring.
Nurit holds a Bachelor of Education in Physical Education and Sports from Wingate Institute in Israel and a Masters in Sport & Leisure Management, from Loughborough University in England. Before moving to Toronto from Israel in July 2010, she was a Project Manager and Competitions Director for the Israel Volleyball Association (2009-2010) and Assistant Director of the Sport Department of the 17th World Maccabiah Games in Israel (2004-2005). Nurit was the lone Israeli volunteer at the Athens 2004 Summer Olympic Games, which allowed her to serve alongside the Israeli Olympic President!
In addition to her services for TUC here in Toronto, Nurit also works with Tennis Canada and the Ontario Volleyball Association. Her ambition to work in sport management is certainly paying off and we look forward to keeping her busy on the Ultimate field!
TUC ALL-NIGHTER CHARITY HAT TOURNAMENT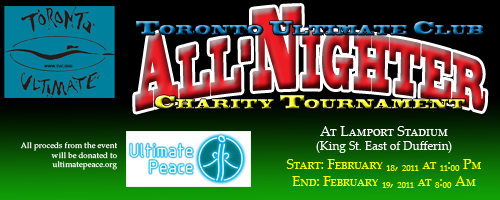 ---
This tournament is offered by TUC, in conjunction with the Lotus Women's Touring team. It is aimed at intermediate level females who are looking to improve their game and learn from the experts! Players will go through a proper warm-up and brief clinic session and then participate in 3 games (approx 40 minutes each). All aspects of the tournament will be instructed and coached by elite level players from Lotus.
Registration is by individual only, and done online through the TUC site. Cost is $35 per TUC member, $45 per non-TUC member, and open to the first 60 women who fully register – registration is now open and spots are already going! You must be a minimum 18 years of age and this tournament is recommended for women with some player experience - it is not for beginners or for elite level players.
Date: Saturday March 26, 2011
Time: 6:00pm - 9:00pm
Location: Lamport Stadium
Cost: $35 per TUC member, $45 per non-TUC member
Player Limit/Signup: limited to the first 60 women who sign up!
This Friday February 18th, TUC will be bringing back the ALL-Nighter Charity Hat Tournament
An All-Nighter tourney is exactly what it implies – you play Ultimate ALL.NIGHT.LONG.BABY! It is a hat tournament that will be hosted at LAMPORT STADIUM on the evening of Friday, February 18, beginning at midnight and going through to 8am on Saturday morning, February 19. You will be guaranteed LOTS of Ultimate (co-ed, 6-on-6, speedpoint), LOTS of prizing and a great social atmosphere. A great way to meet new people, support a charity, and play in your pajamas!
Did you say charity? That's right, all proceeds from the event will go to Ultimate Peace. Ultimate Peace is a young organization that uses Ultimate Frisbee as a tool to forge friendships and peace between youth of different cultural and social backgrounds. For more information visit www.ultimatepeace.org.
Be sure not to miss out on this, Registration for the TUC All-Nighter is now open! Cost is $40 per TUC member and $50 per non-TUC member. All prices include HST.
The Toronto Ultimate Club is hosting its 7th annual Catch the Spirit tournament for high school players on Thurs. Feb 24 & Friday Feb 25, 2011 at Lamport Stadium.
This celebration of Ultimate emphasizes spirit of the game, skill development and balanced competition for all teams involved. This is a great opportunity to teach the game of Ultimate and get your team warmed up for the upcoming school season.
-Dates: Feb 24 (B Division) and Feb 25 (A Division)
We are looking for volunteers to help out with the tournament. If you are interested in volunteering for Catch The Spirit please email events@tuc.org.
CATCH THE SPIRIT INDOOR HIGH SCHOOL TOURNAMENT
Volunteers Needed
REGISTRATION FOR TUC SPRING AND SUMMER LEAGUES OPENS MARCH 15!
Starting Monday, March 14, registration will be open for TUC 2011 Membership, Spring League, AND SUMMER LEAGUE!
HOW TO REGISTER

Registration is done online at www.tuc.org. Click the How to Register icon for instructions on how to get started. Also, check out the Leagues – 2011 Registration Information pages for more information on our memberships. For information on Spring and Summer Leagues, check out the links under 'Leagues'.
For teams and players that are new to TUC, check out our New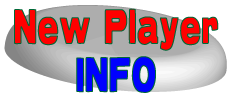 Player Info link.
PRE-SPRING WARMUP INDOOR CO-ED TOURNAMENT
Get your team prepare for the outdoor season with this pre-spring warmup tournament taking place on April 9, 2011 from 9:00PM to Midnight at Lamport Stadium. The cost will be $375 per team and all players will need to have a 2011-2012 Membership. More info will be posted on the website soon.
Registration opens on March 15, 2011.
UPCOMING CLINICS
On Sunday April 3, 10, & 17 TUC will be holding beginner and intermediate clinics at Lamport Stadium from 3:00 PM to 5:00 PM. This is a great place for new players to learn more about the game or for those needing to work out the winter rust.

Final details are still being worked out but once we have that all figured out a posting willl be placed on the TUC website. Registration will open March 15, 2011.