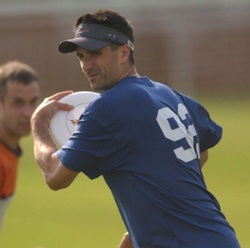 The Toronto Ultimate Community lost a great ambassador on Wednesday morning as Robert Camp lost his two and a half year battle with Cancer while at the Princess Margaret Hospital with his incredible wife Claudine at his side.
While many of us will think of Camp's sweet lefty hucks, crafty veteran defense and devastating heckles, Rob played a much bigger role in the Toronto ultimate community than just his time on the field and posts on the BBS. "Camper" served as a TUC Board Member for several years, volunteered on multiple occasions as a Clinic Instructor, and served as Team Captain for both Coed & Masters Touring teams as well as hundreds of League & Tournament teams. His charisma, sense of humour and ability to bring people together made him an incredibly bright spirit for the sport as well as the people who were fortunate enough to cross his path.
Please be sure to visit the BBS thread that has been set-up for the Ultimate community to share memories, best-wishes, photos and memorable 'heckles/predictions'. Funeral arrangements are still being finalized, and we will be updating this thread once the information has been confirmed.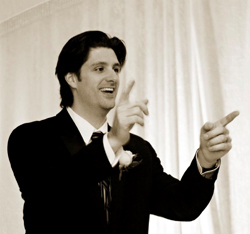 Both Rob & Claudine couldn't say enough about all the support and strength that their friends in the Ultimate community had given them throughout his fight. It goes without saying that Rob was an incredible husband, father and friend to us all - and his smile and love will certainly be missed by all.
Take care Happy Camper - and Thank You for all the Memories.