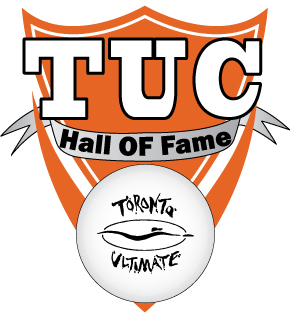 Buy a ticket at the door! We will be accepting walkup ticket purchases (CASH ONLY) until 11pm on Friday ($25 before 10pm, $10 after 10pm). Join us on Friday, October 19 at the TUC Hall of Fame Ceremony & Summer End Celebration! Seven new individuals will be inducted into the Hall of Fame. We'll have ceremonies, awards, appetizers, and Steam Whistle Pilsner! To see the names of our inductees and to learn more about the event, read this article further.
Tickets are $25 for the full event, or $10 to come after 10pm and hang out at the bar (late cover). This is a 19+ event.
Here are your 2012 TUC Hall of Fame Inductees
BUY YOUR TICKET NOW! Purchase your ticket(s) now and tell your friends to do the same!
Event Details
Date: October 19, 2012
Time: 7pm - 1am
Location: Steam Whistle Brewery, The Roundhouse - 255 Bremner Blvd
Dress Code: Casual - Ultimate formal
Parking: Unfortunately there is no parking at the brewery (cars will be towed). There are several paid parking lots very close by: under us in the MTCC parking lot accessed from Lower Simcoe Street, or down at Harbourfront on Queens Quay west of Rees St
Drinks: Steam Whistle Pilsner, wine, basic spirits, and non-alcoholic (water juice)
Cost: $25 per person or $10 for late-cover (after 10pm) ticket
Tickets: Tickets must be purchased online (both full ticket and after-10pm ticket). Note you must have a TUC online profile in order to register, but you can always purchase multiple tickets for your friends/family)

This is a 19+ event. Here is a poster you can share with your family and friends.
Join us on October 19 as we welcome 7 new inductees into the Toronto Ultimate Club Hall of Fame! This is the 2nd ever TUC Hall of Fame induction ceremony with the first being in 2010 in conjunction with our 30th Anniversary Celebration.
This event at Steam Whistle Brewery will feature drinks and appetizers, awards, and our Hall of Fame induction ceremony. It is an awesome social evening that brings old and new members together in a celebration of Toronto Ultimate! We'll incorporate some prizing, keep the Steam Whistle beer affordable and possibly open up the dance floor if the animals get restless. The TUC Social Committee is working on a number of other cool amenities for the event.
For those who cannot attend the ceremony and awards we do offer a late cover charge of $10, but you cannot access the venue before 10pm and you will miss out on the amenities. But you can still join us at bar! Due to space there are a limited number of tickets available for this prestigious event so act quickly and purchase your tickets!
Hall of Fame - Inductees 2012
The 2012 Inductees are listed below and pictured here. You will get to learn more about these legends (bios, pics, etc.) at the event and online after the event. Inductees are entered in 3 categories: Player, Builder, and Special Merit. Descriptions of these categories are further below.
Players - Dante Anderson, Edgar Wedig, Mary-Chris Staples
Builders - Bob Blakely, Caleigh Garland, Leslie Anthony Lowcock
Special Merit - Michael Shockett
Selecting the Inductees
There are many worthy candidates for the TUC Hall of Fame. Congratulations to the Hall of Fame Committee on its achievement. The committee took painstaking efforts to consider all nominees, balance all opinions, and maintain integrity throughout the process. For more information you can visit our HOF Policy page. Interested in participating and think you have an extensive knowledge of our history? Contact halloffame@tuc.org
Hall of Fame Nomination Categories
Player - nominees should be near 40 years of age or older, with highest achievement at League/National/International level, highly regarded as one of the best players in their era, displaying integrity and Spirit along the way.
Builder - individuals making exceptional and long lasting contributions to the Club and the sport, in areas including but not limited to administration, development, coaching, and media.
Special Merit - accommodating all potential nominees that do not apply to Player or Builder, whether individuals or teams that defined the sport or contributed to make TUC Ultimate special, in the context of their day and/or beyond.
Brought to you by