Submitted by Jo Malisani on
2020 TUC Volunteer of the Year - Winners and Honourable Mentions
2020 was a challenging year, and our lives impacted in so many ways, including our ability to play and give back to the sport we all love.

TUC is a close-knit community that relies on our volunteers. We are so grateful to have so many beautiful humans willing to give back and grow our sport and club.

And while we were able to take the field at various times and celebrate and recognize our volunteers through our Volunteer of the Month Awards, our winners for the 2020 Volunteer of the Year Award are ALL OUR TUC MEMBERS WHO ARE FRONTLINE WORKERS. From our health care professionals, to emergency services personnel, to grocers, to pharmacists, etc. - thank you for your services! You have gone above and beyond for our city, our province and our country to provide others with the essential services.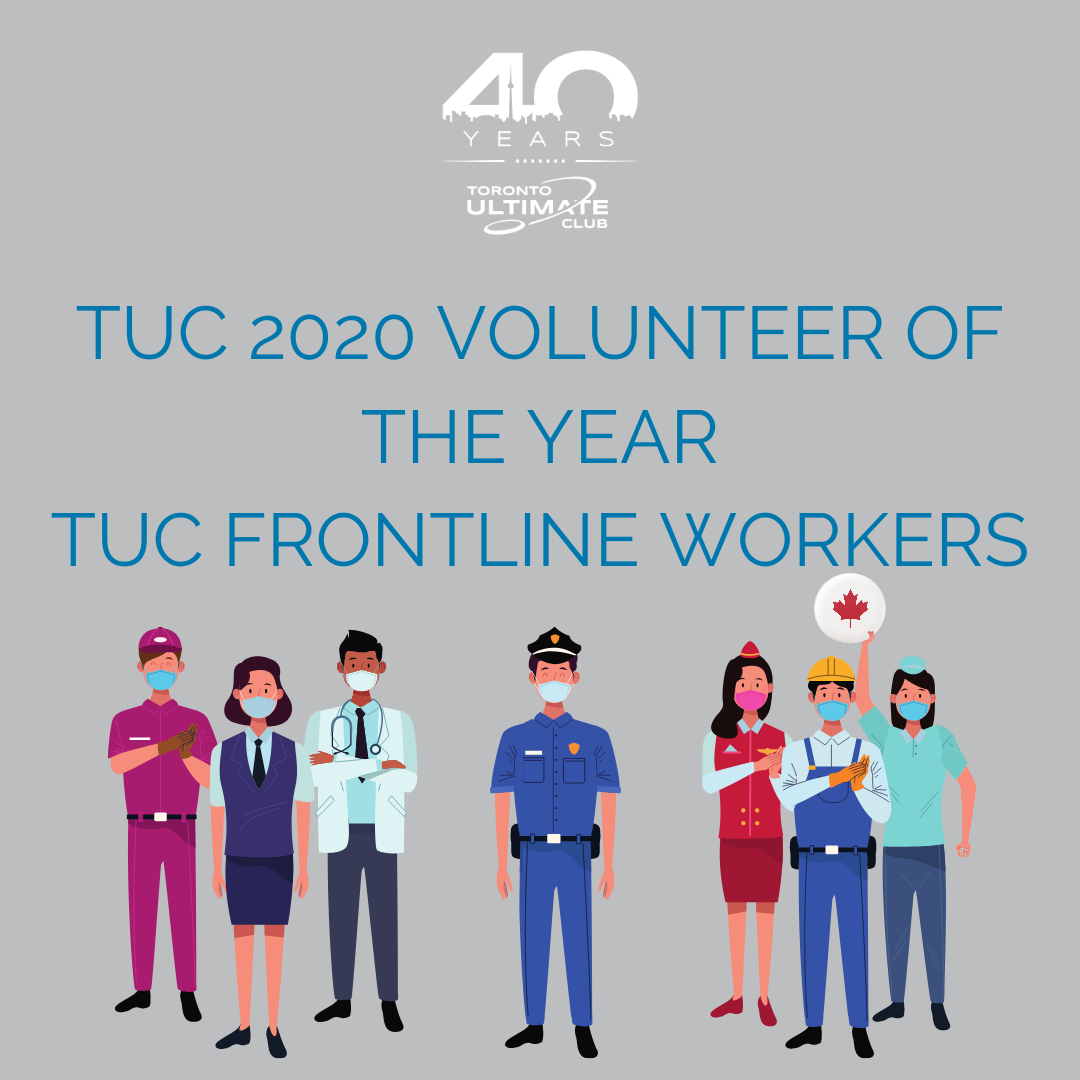 We also wanted to share some honourable mentions.

Hidaya "Dee" Roderique, our June Honorary Volunteer of the Month. She is a nationally renowned speaker on equity, diversity, and inclusion issues among the many hats she wears. She is an award-winning writer, most well known for her viral piece "Black on Bay Street", a cover story for the Globe and Mail, which outlined her experiences as a young Black woman working in a Bay Street firm. Over the last year, Hadiya has continued her work on those issues, taking part in a Speaker's Spotlight Panel on Race, Equality, Justice and Hope. She also led a Q and A for junior ultimate players on Race and what we can do to make Ultimate more inclusive. Hadiya also sits on Ultimate Canada's newly established Equity, Diversity and Inclusion Committee.

TUC's 2020 Summer Coaches. In addition to their usual responsibilities - creating an engaging, safe, and fun learning environment for our junior athletes to grow and develop their skills - COVID-19 brought on and with it more responsibilities: wellness checks, equipment sanitization, ensuring physical distancing, all while pivoting to coach with a mask on, which required adjusting the communication tools of a coach (masks hide a lot of facial expressions and cues, and limits the projection of one's voice). Despite these challenges and additional responsibilities, our coaches showed up and created opportunities for our juniors to play safely!

TUC'S Board of Directors. COVID-19 changed the game for these volunteers, in an instant on March 12th, the time commitment and dedication level required of them changed, and they rose to the challenge, meeting bi-weekly to discuss the latest developments on COVID-19, working with staff on how to keep the community engaged, and preparing for a safe return to ultimate.

Thank you to all our volunteers and frontline workers for all you did in 2020, on the field and off!

See below for a list of the previous Volunteer of the Year winners:
2019: Emma Seaborn and Rob Grundy
2018: Chelsea Jackson
2017: Thomas Meyer
2016: Cory Lamothe
2015: Kevin Philip Lee
2014: Micheal Kukucska
2013: Mark Tran
2012: Harry Burkman
2011: Craig Stephen
2010: Natalie Fitzgerald
2009: Greg Schmidt
2008: James McCully
2007: Michael Pezzack
2006: Doug Coote
2005: Andrew Hunter