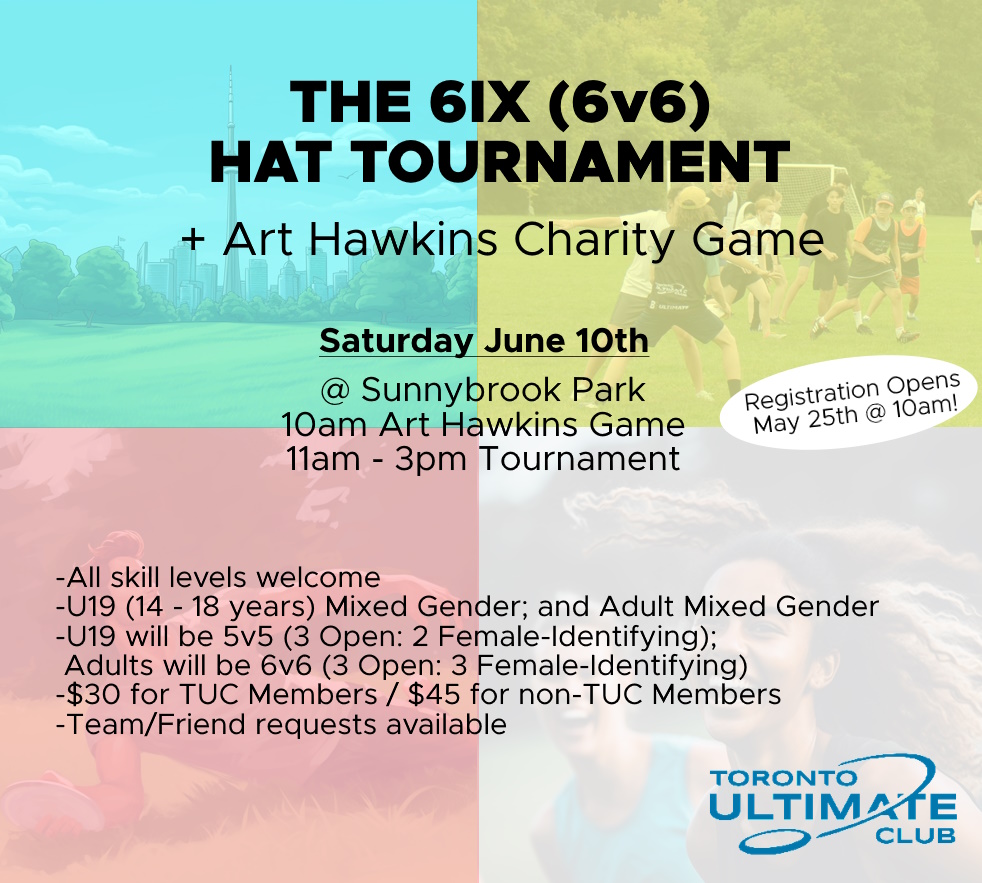 TUC is pleased to announce our return to offering Summer Ultimate Tournaments. Our first tournament of the season, is "The 6ix".  The tournament is a HAT Tournament. 
The tournament will kick off with TUC's contribution to the ART HAWKINS GREAT CANADIAN ULTIMATE GAME.  The annual Art Hawkins game is an opportunity for communities across the country to come together and collect donations for the Art Hawkins Development fund while developing Spirit of the Game, promoting and playing our great sport!  
Event Details:
Date:  Saturday, June 10th, 2023
Time:  10:00 A.M. to 3:00 P.M.
Location:  Sunnybrook Park
Level of Play:  All skill levels welcome
Tournament Divisions:  U19 (14 - 18 years) Mixed Gender; and Adult Mixed Gender
Format:  U19 will be 5v5 (3 Open: 2 Female-Identifying); Adults will be 6v6 (3 Open: 3 Female-Identifying)
Cost:  $30 for TUC Members / $45 for non-TUC Members
Contact:  juniors@tuc.org (for U19 event) / adults@tuc.org (for Adult event)
Top priorities for this tournament include Spirit of the Game; development; enjoyment of the sport!
Registration for this event opens Thursday, May 25th, 2023 at 10:00 A.M.