The Toronto Ultimate Club depends on volunteers for smooth operation of the many leagues, tournaments, clinics and social events offered every year. Here, we highlight those whose contributions really stand out.
Volunteer of the Month Nominations
TUC has been recognizing the club's volunteers dating back to 2007. We have recognized our junior and development program coaches, event volunteers, league coordinators, and board members.

Volunteers are the backbone of our community, and we are pleased to invite you, our membership, to join TUC leadership in recognizing volunteers from across our community who are dedicated to our club, and the sport of Ultimate.

We will be accepting nominations monthly from the first Monday of the month, to the second last Friday of the month, for volunteerism for the previous moth. Toronto Ultimate Club's leadership will review the nominations received and will announce the Volunteer of the Month for the previous month on the last Friday of the current month. Following the announcement on our social media platforms, an article will be published on our website.

To nominate a deserving member of our community, please complete the following nomination form:
We look forward to working with our membership to continue to celebrate our volunteers!
Here's a look back at past winners: 2020 | 2019 | 2018 | 2017 | 2016 | 2015 | 2014 | 2013 | 2012 | 2011 | 2010 | 2009 | 2008 | 2007
 
2020 Volunteer of the Month Award Winners
January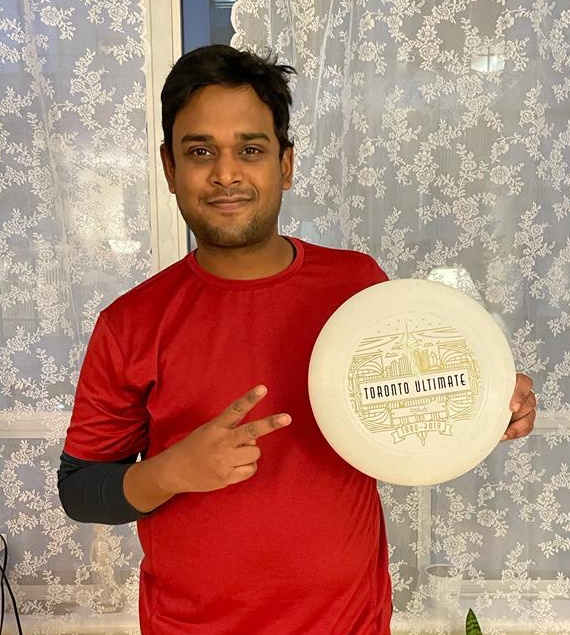 Sukrit "Suki" Sarkar
 
After a significant pandemic-hiatus, we're back with a fresh start to VOTM 2022!

Suki has been a huge help and great personality to have leading various junior programs over the Summer and Fall season.

Suki started playing ultimate in college with the Ohio Wesleyan Firedogs. "I absolutely fell in love with the game from the very first day. The spirit, athleticism, and camaraderie drew me to the game". That team would go on to reach Regionals in the Mid-West US. Suki continued playing with Ultimate teams in India in cities of Chennai and Mumbai and was among the early members of the community there. "It has been joyous to see the progress of the sport in India, with teams from India regularly competing and playing well in global tournaments".
 
"Over the past year I have cherished the experience of playing in the TUC master's league and being involved with the coaching of young athletes. I have loved every bit of the time spent with the players, young athletes, coaches, organizers and community."
 
Fun Fact about me: I love chopping vegetables.
Interested to hear about volunteering opportunities? You can email volunteers@tuc.org to find out where you can help!