The Toronto Ultimate Club depends on volunteers for smooth operation of the many leagues, tournaments, clinics and social events offered every year. Here, we highlight those whose contributions really stand out.
Look back at past winners: 2019 | 2018 | 2017 | 2016 | 2015 | 2014 | 2013 | 2012 | 2011 | 2010 | 2009 | 2008 | 2007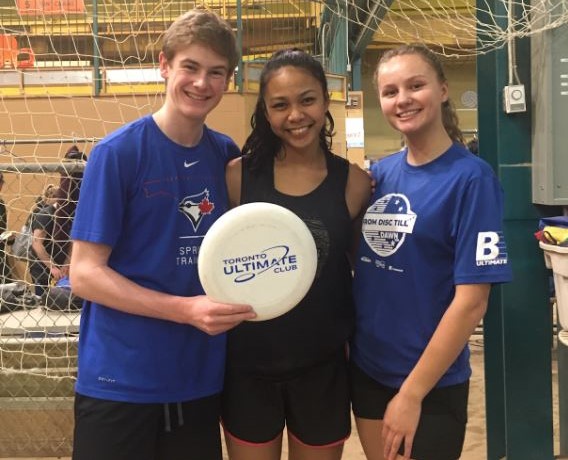 January
For January we wanted to show our appreciation for a trio of young volunteers who have been having a positive impact on the TUC community and our youth programs.
Jaden, Princess and Renata began volunteering alongside Coach Tom during our Fall Outdoor programs at Upper Canada College. After getting a taste for the coaching community, they continued to volunteer throughout our Fall Indoor season and beyond.
"I actually started playing ultimate because of school; Jaden and Tom convincing me that I can be better as long as I try".   - Renata 
"My first ultimate frisbee game was when I was 13 at my elementary school and I got more into ultimate in high school. Tom Meyer coached the Humberside ultimate frisbee team and introduced me to TUC. After 2 years of playing with TUC, Tom asked if I was interested in coaching the U10 program. Fortunately, I said yes because I had such a wonderful experience with the kids and it was great seeing them improve every week". - Princess

"I first started playing ultimate when I was 10 years old. I tried out for the ultimate team at my elementary school, Runnymede Public School. I enjoyed playing for my school, so a few months later I signed up for a TUC instructional program and have been playing in TUC leagues ever since. I have also played with Elites programs and have been on the Havoc and Wild Toronto teams." Jaden 
I really enjoyed coaching the young 7-9 year old kids at Monarch Park this season. It would make me happy every week when I arrived, 2 boys would run up to me, scream my name and sometimes give me a hug."
Interested to hear about volunteering opportunities? You can email volunteers@tuc.org to find out where you can help!