Submitted by Jo Malisani on
ANNOUNCEMENTS
MARCH GRAND MASTERS PICK-UP LEAGUE - Registration Opens 23 February at 10:00am
TUC is pleased to announce that registrations for March Grand Masters pick-up games at Upper Canada College will open on Thursday, February 23rd at 10:00am. Check out the Friday Grand Masters link here for more details and to register for our March games!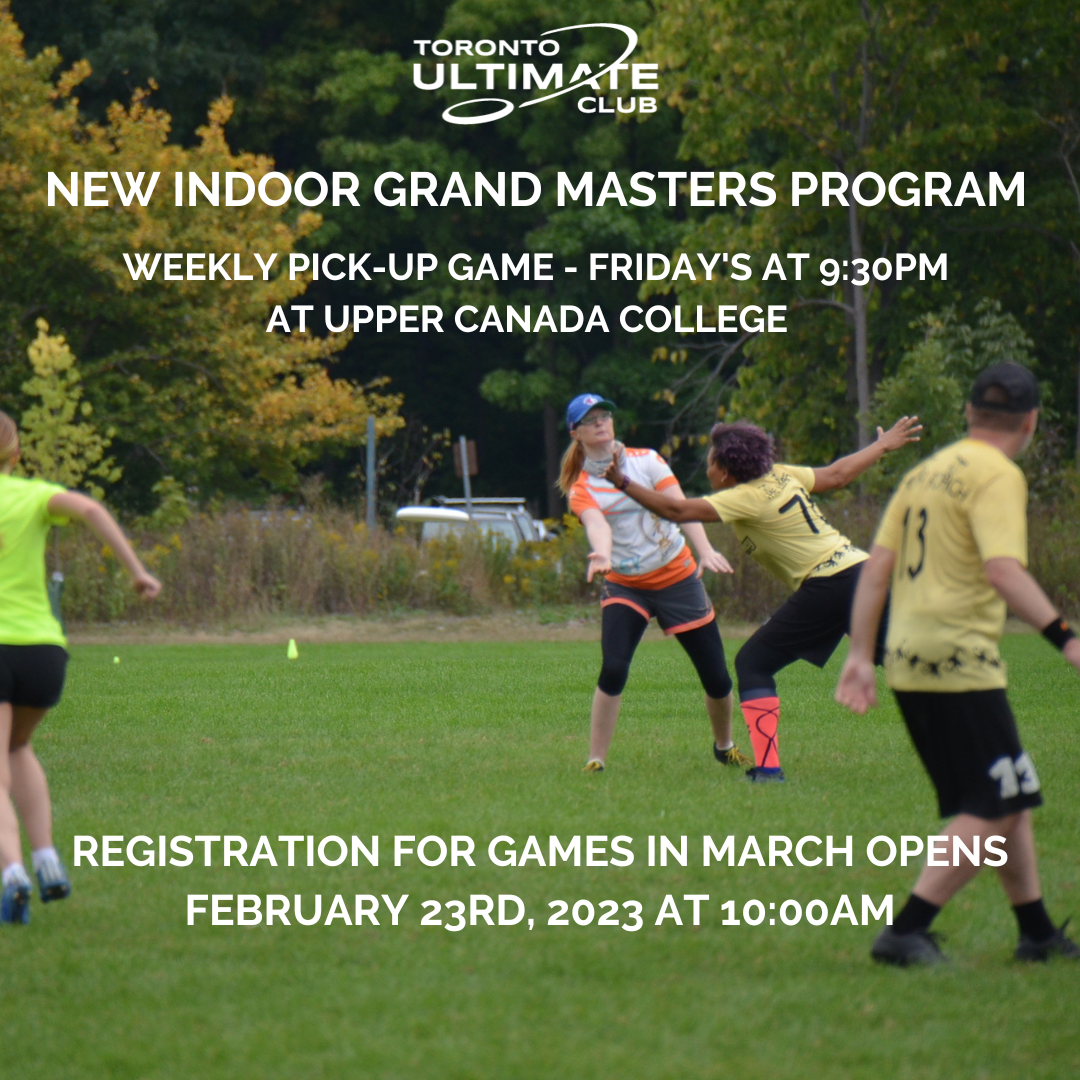 FEBRUARY 26TH CLINIC - Int/Comp Mixed Skills and Drills
In preparation for the upcoming outdoor league and club seasons, TUC is hosting three (3) intermediate mixed sessions, happening Sundays at 4pm on February 26th, March 19th and April 16th. The clinic on February 26th will focus on high cardio and flow drills.

These sessions are intended as a fun way to shake off some winter rust for any who have not been playing!
This event is open to members and non-members.
Registration is open and spaces are filling up fast! 
 
EVENT REMINDERS
FROM DISC TILL DAWN 2023
From Disc Till Dawn 2023 returns after a 2 year hiatus and will take place at Downsview Hanger from 11:30pm on March 25th to 5:30am on March 26th, 2023.

As a part of the event registration, each participant will receive a special edition BE Ultimate Jersey and an UltraStar disc from Discraft.

Reminder, register by 11:59pm on Monday, February 27th, 2023 to confirm your BE Ultimate Jersey sizing!

For more details and to sign-up for From Disc Till Dawn 2023, check out this link!