Hello TUC Member
Fall Ultimate!!!
That's right, we're already thinking about changing leaves, crisp mornings, and going back to school…. Ahhh! But have no fear, because there will still be TUC Ultimate seamlessly beginning where summer league ends. Start preparing to play TUC Fall League now!
We are working hard to confirm our field locations (to be announced soon), but TUC will be offering both OUTDOOR and INDOOR Fall leagues in '06. Fall Co-Ed outdoor will remain on Sundays and Single Gender leagues on Wednesdays under lights (limited spots), beginning September 20. Fall indoor will run on Tuesdays and Thursdays beginning October 10 and this year will include TEAM entries. Here are more details below:
Category
Start Date
End Date
Game Times
Cost
Locations
Outdoor Men's & Outdoor Women's – Wednesdays (7 vs 7)
Wednesday, September 20
Wednesday, October 25
6:30 – 7:40pm,
7:50 – 9:00pm
$200 per team,
$20 per individual
Greenwood Park,
Trinity Bellwoods Park
Outdoor Co-Ed Sundays (7 vs 7)
Sunday, September 24
Sunday, November 12
Games from
12pm – 4:20pm
(80 min. games)
$150 per team,
$15 per individual
Across the GTA, TBD
Indoor Co-Ed Tuesdays – TEAMS
(6 vs 6)
Tuesday, October 10
Tuesday, December 19
9pm – 10pm,
10pm – 11pm,
11pm – 12am
(1 hr games)
$1500 per team
(12 people max)
Downsview Hangar,
Metro Sports Centre
Indoor Co-Ed Thursdays – Individuals Only
(6 vs 6)
Thursday, October 12
Thursday, December 21
Games from
7pm – 12am
(1 hr games)
$175 per person
Downsview Hangar,
Metro Sports Centre
* All prices include GST. Must be a TUC member to be eligible for Fall League.
Registration for Fall Leagues begin August 24. For more information and updates keep checking our 2006 Fall Leagues page. Be sure to play TUC Ultimate this autumn and get your friends on board to play!
---
Co-Ed Skill Clinic This Sunday!
Late entries are being accepted for our TUC Co-Ed Skill Clinic this Sunday, July 16. The Clinic will be held at Riverdale Park East from 1 p.m. – 2:30 p.m. (followed by pickup) and is FREE to all TUC members ($5 per non-TUC member). This is one of your last summer opportunities to get up-to-speed on basic skills and drills, as well as strategies like "breaking the force" or "beating the zone." Please contact clinics@tuc.org or register on-site to participate.
---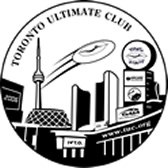 ---
Mid-Season Classic
WOW – We are looking at 40+ teams for the Mid-Season Tournament! There are still a few spots left so be sure to register by the deadline of July 18. Visit the Mid-Season Tournament page for more details. Important notes for the big tourney:
Games start at 8 a.m. (*gulp!*). If you have a first round game, be sure to be warmed up and ready to start right on time. There is no "Ultimate time" with 40+ teams.
The tournament schedule will be posted on the website by NOON on Friday, July 21 so you can see when your games are on Saturday (Sunday will depend on Saturday results).
Bring water bottles – We will supply water on-site to keep you hydrated.
Bring some bling$ to spend on discounted Ultimate products, courtesy of our great partners GAIA Ultimate and Daredevil Discs.
Sport Physio Canada staff and rehab volunteers on-site to help all your aches and pains.
Free Special BBQ lunch on Sunday for all participants!
All non-TUC members are required to pay a $5 fee to participate. Captains please check in for your teams at the TUC registration tent.
Be sure to join us at the Madison on Saturday night after your games. Details will be posted on the website.
---
League Items
Shuffles – The second round of shuffles will take place on Friday, July 28 (for Tuesday nights) AND Friday, August 4 (for Monday, Wednesday, & Thursday nights) as the night games that were previously canceled by TUC Head Office will be re-scheduled. These games (June 29, July 10, & July 12) will be played at the end of round 2, followed by the shuffle one week later. Once again, the top two teams in each tier will move up, and the bottom two will move down. Be sure to check your team's schedule by these dates. Also, any make-up games for the second round should be played BEFORE July 26 and reported to TUC headquarters.
Pickup – A reminder that pickup fields are available at Riverdale Park East on Friday evenings (after 6:30 p.m.) as well as Sunday afternoon (2:30 – 5:30 p.m.). If you are interested in participating in a more structured game on Fridays, contact Max at friday@tuc.org.
Time Caps – As the sun is starting to set earlier at night, please start your games as early as possible and keep an eye on the clock to finish your game by Time Cap! Time Caps are posted on the Events Calendar.
Fall League – Did we mention we are offering Fall Indoor Co-Ed TEAM League night, as well as Hat Team night?!? Be sure to register on August 24!
---

---
TUC Canada Day Party
Over 200 people came out to Devil's Martini on Thursday, June 29 to celebrate with TUC's Annual Canada Day Party. TUC held a 50-50 draw to support Mark Radman & Allison Hickey and will donate $750 to the Sunnybrook Critical Care Unit in their names. To make a separate donation on behalf of Mark & Allison, please visit Sunnybrook Online and select "Tribute Giving" or make a simple donation. Thanks to all volunteers and party crashers – we had a great time!
---
Pie Plate – A Magazine for You, By You
Pie Plate is our annual souvenir magazine that highlights the TUC year. It is a free publication that is produced BY TUC MEMBERS, FOR TUC MEMBERS. Our goal is to make each and every ounce of this magazine worthwhile – something you'll put on the coffee table instead of the recycling bin! This is our final call for all IDEAS and CONTRIBUTIONS to Pie Plate. If you'd like to help out in any capacity, or just want to offer some fresh ideas on how to make it better, please email communications@tuc.org. We will also accept cool pictures (digital) from the year if you want to send us any!
---
World Juniors Ultimate – Funds Campaign
The World 2006 Junior Ultimate Championships in Massachusetts this August is reportedly facing serious financial obstacles. This story, and how you can help support youth world ultimate, is posted on the

under "Anything Ultimate – WJUC '06 Support."
---
Rogers Cup – TUC Member Discounts
Last chance to see the Rogers Cup at TUC-reduced rates! It looks like Roger (Federer) & Rafael (Nadal) could meet again in another exciting showdown; each has won the Toronto title in the last 2 years and they have already met in two Grand Slam Finals this year.
To check out ticket prices for the 2006 Rogers Cup, held at the Rexall Centre at York University from August 5 – 13, visit this link.
---

---
Sincerely,
The TUC team