Hello TUC Member
FALL SIGNUP COMING SOON!
Just 3 weeks until registration for Fall League begins! Be sure to spread the word amongst your friends in Ultimate and be ready to signup starting August 24.
TUC is offering both Outdoor (Co-Ed & Single Gender) and Indoor (TEAM & Individual) Leagues so you have lots of options to choose from. Spaces may be limited (ie. Single Gender Leagues & Indoor) though and we'll offer spots on a first-come, first-serve basis.
Category
Start Date
End Date
Game Times
Cost
Locations
Outdoor Men's & Outdoor Women's – Wednesdays (7 vs 7)
Wednesday, September 20
Wednesday, October 25
6:30 – 7:40pm,
7:50 – 9:00pm
$200 per team,
$20 per individual
Greenwood Park,
Trinity Bellwoods Park,
TBD
Outdoor Co-Ed Sundays (7 vs 7)
Sunday, September 24
Sunday, November 12
Games from
12pm – 4:20pm
(80 min. games)
$150 per team,
$15 per individual
Bloor C.I., Central Tech., Oakwood C.I., Monarch Park, Forest Manor, Parkway Forest, and more TBD
Indoor Co-Ed Tuesdays – TEAMS
(6 vs 6)
Tuesday, October 10
Tuesday, December 19
9pm – 10pm,
10pm – 11pm,
11pm – 12am
(1 hr games)
$1500 per team
(12 people max)
Metro Sports Centre
Indoor Co-Ed Thursdays – Individuals Only
(6 vs 6)
Thursday, October 12
Thursday, December 21
Games from
7pm – 12am
(1 hr games)
$175 per person
Downsview Hangar,
Metro Sports Centre
*
All prices include GST. Must be a TUC member to be eligible for Fall League.
For more information and updates keep checking our 2006 Fall Outdoor and 2006/2007 Indoor Leagues page. Be sure to play TUC Ultimate this autumn and get your friends on board to play!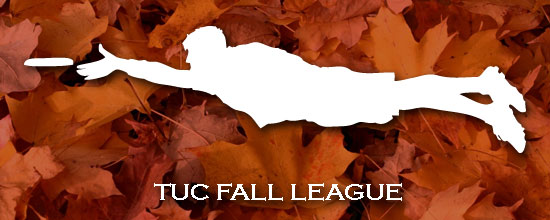 ---
Hat Tournament August 19
The next great TUC tourney is just around the corner. On Saturday, August 19, from 10am – 5:30pm, we will host our last 2006 Hat Tournament. Games will be played at Riverdale Park East, on all fields in and around the track. Registration will take place on site – all you have to do is report to the TUC tent by 9:30am and we will get you matched up on a team. Non-TUC members must pay a $5 fee to participate. Our last hat tourney was a big one, let's do it again on August 19!
---
---
Mid-Season Tournament Results
Well once again the wrath of Mother Nature fell upon a TUC tournament, preventing us from completing our playoff games. But that didn't matter because we had a great time! Everyone was winner on the weekend; we got to enjoy competitive Ultimate at Sunnybrook Park, Sunday's yummy BBQ, free Xilarate Sports Power Fluid, free physio and sports rehab, on-site access to partners GAIA, Daredevil Discs, and AMCARE, and most importantly we got to enjoy OUTSTANDING SPIRITED PLAY!
Here are the 2006 Mid-Season Tournament Spirit Winners!
A Pool - SMUT
B Pool - Floppy Discs
C Pool - DIRT
D Pool - Kung Fu Hustle
E Pool - SPIN
F Pool - Release the Hounds
Thanks to all of our mighty volunteers and participants for making this weekend a successful and fun tournament! To view photos from the event, courtesy of www.craigstephenphotography.com.
---
League Items
Shuffles – The second round of shuffles for Tuesday nights have now been posted. The other nights will complete Round 2 this week and we will post the Monday, Wednesday, and Thursday shuffles on Friday, August 4. These are the final shuffles as we hit the home stretch to the TUC Playoffs!
Final Rosters – A reminder that the deadline to add players to your team roster is Saturday, August 5. Remember, all players on your team must be registered members of TUC. Non-member players can play a maximum of two games on your team and are NOT eligible for playoffs.
Time Caps – Starting next week, the Time Cap to complete games is now down to 8:35pm. Please be sure to get your games started on time to take full advantage of the sunlight! If you reach the time cap before the end of your game, you should complete the point and then end the game. Captains can set a hard cap as the time cap approaches.
---
---
Canadian National Championships
Congratulations to the 11 Toronto teams participating in the Canadian Ultimate Championships from August 17 – 20, 2006. The games will be played in Halifax and will feature 5 different divisions. Toronto Touring Teams, supported by TUC, have been training and competing in tournaments all summer long in preparation for this prestigious event. We wish the best of luck to our teams as they compete at the highest level of Ultimate in the nation and represent Toronto Ultimate! Here are Toronto's participating teams:
Junior Division – DIRT
Mixed Division – Bombing Madd Fatties, Zen Asylum
Open Division – GOAT, Grand Trunk, ROY, Too Bad
Women's Division – Eve, Lilly, Lotus, Snatch
For more information on the Canadian Ultimate Championships, visit http://www.canadianultimate.com/cuc/2006/en/
---
Pull For a Cure
They're back!! The second annual Pull for a Cure Ultimate tournament last year at Markville Secondary School was such a success, they're doing it again. Last year almost $12,000 was raised for the Canadian Cancer Society — a grand total of more than $23,000 over two years — and this year the committee is hoping to raise even more. Join the third annual Pull for a Cure Tournament in Markham on Saturday, August 26, 2006.
Visit www.pullforacure.com for more info.
---

---
Sincerely,

The TUC team