View topic - My van burned to the ground !
Remember the story about the Nufunk Van & Reggae band Disaster?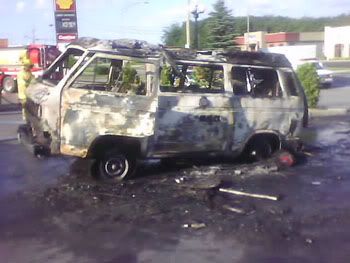 Between 2006-2007 - Nufunk had a 1984 White VW micro-bus that acted as our transportation to events, help move musical and DJ gear as well as helped bands tour around Central and Atlantic Canada.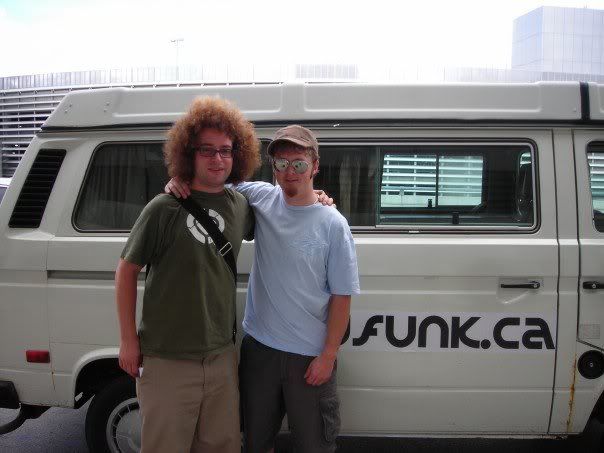 People who travelled in that van include: Z-Trip, Ollie Teeba aka The Herbaliser, Fort Knox Five, Randy Brecker, Krafty Kuts, Charlie Hunter, Chameleon Project, Femi Kuti and many others...
On tour to The Evolve Festival
http://www.evolvefestival.com
in 2007 - the van mysteriously caught fire in Quebec - the band members had to literally escape for the lives! See photos below! It was a massive disaster, as the band members lost all their clothes and musical gear and I personally lost my instruments; guitar/amp/effects, camera, cell phone, CD, Camping Gear clothes and my beloved VW bus. We lost an estimated $25,000 worth of stuff collectively and it has been a struggle for us ever since. Luckily we have found support along the way and things are getting better all the time.
At the time of the accident, we thought about just going home, we were only 1/2 way to the festival. With some convincing from Evolve, we decided to solider on and we completed our tour to the Festival. It was because of the support of so many people - who gave us clothes and shoes, lent us tents and instruments, gave us shelter and food, that we were able to bounce back from the accident. In the end we made a big splash at the festival, playing two sets - we found the joy in life, even though we came close to losing it and we knew the aftermath of loosing everything was still looming.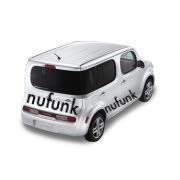 HERE's HOW YOU CAN HELP ME
We have however been nominated to enter this contest to win a brand new vehicle that could help turn things around for us. Nissan has entered us in a contest that gives us 1 in 10 chance to win a brand new Hypercube Car (it's a hybrid electric/gas powered vehicle)
Image
Go to
http://www.hypercube.ca
Click on the red REGISTER TO VOTE button and then fill out the form. Required fields include your name and email address.
Once you're done registering, paste this link:
http://LNK.by/cll
or
http://www.hypercube.ca/en/Canvas.aspx? ... 15&lang=en
you might have to look up "Jay Cleary" if you can't find me.
It will take you to Nufunk's 'canvas' - this is still just in the making - I have a flash animation in the works that will tell the story of why we should get the CUBE!
On top right hand corner of the page is a small red button that says VOTE NOW. Click that and remember you can vote everyday up until May 15th!
So here's it all again
>> Go to our canvas:
http://LNK.by/cll
>> Login at the top right corner with your email address and password.
>> Click on the small red VOTE NOW!
Thanks for your support !!
Please help us by spread the word, pasting this to your profile etc... If we get the car we will be holding a free all night all you can drink party in Toronto that you will be invited to! We will also be open to helping people by picking up people at the airport while passing through Halifax, helping deliver and sponsor other peoples events. Basically we'll show you love back in a big way!
thanks
Jay Cleary
http://www.nufunk.ca
Posts: 12
Joined: Sat Jan 28, 2006 5:22 pm
---
Who is online
Users browsing this forum: No registered users and 1 guest