View topic - The Tale of the Headboard
For those who don't know, I live in a house on a quiet street in Scarborough. (Contrary to what following the news might lead you to believe, they do in fact exist.) I've had various family members live with me since I moved in, and we've had many opportunities to dispose of surplus items: things that we don't need or want any more, but which are still in decent condition.

The solution which we hit upon almost immediately was to cart them to the curb, put a "FREE" sign on them, and wait for them to be carted away, which never takes long. Among other things, we've "moved" a wall unit (which someone walked past, looked at, went home, and came straight back with the minivan, to find that someone else had already taken it), dresser (carried away *on* the trunk of a Corolla, with the kids walking on either side holding it in place), fridge and stove, and firewood from 5 scraggly pine trees (which was already being carted away before we finished bringing it out from the back yard).

The best story was the day we put out the appliances, and returned home to find two notes on the door. The first was from somebody who works for the city's waste management department, saying that you can't just put appliances out with the trash, you have to call for a special pickup. The second was from someone thanking me for the free appliances.

The only thing that didn't get taken was a toilet that I put out late on a Friday of a long weekend, and which was broken by hoodlums from Malvern during the night. I chalk that one up to poor timing rather than nobody wanting a used toilet.

"So," you ask, "what was that about a headboard?"

Well, this is all just background information, without which the rest of the story makes very little sense.

My step-brother moved out late last year. Some of you may recall my Classified post looking for a new tenant. During spring cleaning, I found his old headboard in the rafters of the garage, and asked him if he wanted it. He said no, so it went to the curb. This is it's story.

3:07pm. Headboard is at the curb. An old guy walking by looked over as it was carried out.
3:13pm. Headboard is still there. Hmm, looks like the cap for that broken drain has finally vanished for good.
3:14pm. The guy painting the house across the street just drove away.
3:15pm. An empty bus went by.
3:16pm. Maybe I should do something other than watch the street.
3:17pm. An SUV with dealer plates just drove by. Idea for next time I need drywall or plywood: take an SUV for a test drive.
3:18pm. A pickup just stopped across the road, but it's a lawn care company.
3:19pm. A guy that looks suspiciously like Billy Bob Thornton just walked by. Didn't even look at the headboard.
3:21pm. Little old Chinese grandmother that can't walk straight enough to keep the stroller on the sidewalk. Also didn't look.
3:23pm. Neighbour took a long look before driving away. Probably just being nosy. There goes the lawn guy too.
3:24pm. A minivan slowed way down and pulled over to the curb. No, just the painter from across the street coming back, pulled over to let someone pass before he backed into the driveway.
3:36pm: Not looking good for whoever had "30 minutes" in the pool.
3:41pm: Is that a tennis ball in the leaves along the curb across the street?
3:50pm: Still there.
4:01pm: Still there. I need to rake the yard.
4:07pm: It's been an hour. Maybe I should put a sign on it.
4:17pm: I put a sign on it.

Tune in tomorrow for the exciting conclusion!
TUC Webmaster
Posts: 1291
Joined: Thu Apr 01, 2004 1:45 pm
---
The story so far....
I put an old headboard out at the curb for whoever wanted to take it.
When we last saw the headboard, it was sitting forlornly, still waiting to be loved, hours after being offered up.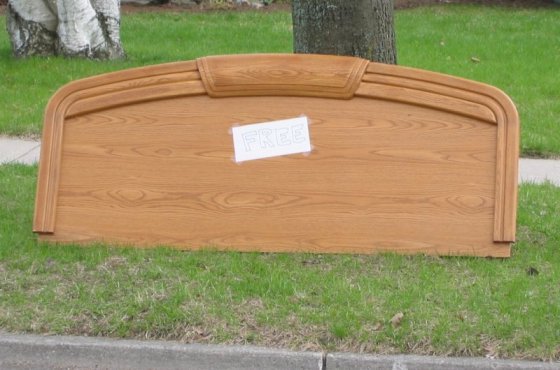 I began to lose my faith in humanity. Had we really fallen so far that nobody on this little street wanted a perfectly good headboard? After all this time, had the terrorists finally won?
I went to a movie. Maybe "a watched headboard is never taken", and a couple of hours away would encourage fate?
Alas, it was not to be. Upon my return, the poor thing was still there, it's little "FREE" sign seemingly a mockery of everything I knew and held dear. What had happened to that most greedy of the seven sins: Greed? Surely by now someone should have taken it, if for no other reason than to keep others from getting it.
One last check before turning in showed that it was still there, bravely huddled against the bark of the tree to ward off the chill April night. What would the morning bring?
I rose the next day at the crack of noon, filled with anticipation. What would I learn at the
indoor skills clinic
? Oh yeah, and is the headboard gone? Or is it still standing silent guard over the front lawn, it's flimsy paper sign damp with the morning dew?
I raced to the bathroom, then, thus relieved, wandered to the front window, hoping for the best. And what to my wond'ring eyes should appear, but an empty spot on the lawn where so recently the headboard had leaned.
O frabjous day! Callooh! Callay!
I chortled in my joy.
The headboard has found a home, and now all I can do is hope that it is not in someone's fireplace. I'm sure that you all rejoice with me, and join me in my silent prayer for the headboard in its new life.
TUC Webmaster
Posts: 1291
Joined: Thu Apr 01, 2004 1:45 pm
---
That would be an interesting study. Put one item at the curb at the same time of the week and see how long it takes to disappear. Drink 1 beer every 30 minutes. Recount the whole thing in a time log. Post it on the BBS.

Posts: 318
Joined: Fri Mar 19, 2004 2:42 pm
---
Now available, the full
Canada's Wonderland treatment
of the
historic Headboard incident
!
Begin with a Tour of the Garage where the Headboard was Found and the Route it took to the now-famous Curb, watch a Dramatic Re-enactment of the Old Chinese Grandmother, and then Meet the Nosy Neighbour!!
Play the Is That A Tennis Ball In The Leaves Across The Street game!!!
Take part in an improvised fictional re-creation of what the Removal of the Headboard might have been like, starring Colin Mochrie!!!!
Marvel at how the front yard still needs raking!!!!!
Wrap it all up with a viewing of a touching documentary, before it's official world premiere at Cannes, about how the Headboard changed the lives of those around it, with speculation from leading psychics about where it might be now!
To preserve your memories of this family-oriented theme park, order the unique, expertly filmed and edited DVD of your outing.
Single day pass: $29.95
Single season pass: $69.95
Single female pass: FREE
Family pass: $89.95 (includes FREE DVD)
The more adventuresome may choose to spend a night where the Headboard did, for a small additional fee (tent not included: the Headboard didn't have one).
If you are under 18 and would like to Climb the Ladder to See the Rafters, you will need a consent form signed by a parent or legal guardian.
TUC Webmaster
Posts: 1291
Joined: Thu Apr 01, 2004 1:45 pm
---
Posts: 67
Joined: Tue Mar 16, 2004 8:52 pm
---
I remember that commercial! Does this mean you won't be coming to the theme park?
TUC Webmaster
Posts: 1291
Joined: Thu Apr 01, 2004 1:45 pm
---
Greg, you definately have way too much time on your hands.

Stephane
Posts: 102
Joined: Tue Mar 16, 2004 2:03 pm
---
For my money, Greg doesn't have
enough
time on his hands.
Come on people, let's dig deep and raise some money to help hire him a nanny or a cook or something.
Last edited by
Paper
on Thu Jan 10, 2008 3:34 pm, edited 2 times in total.
Posts: 140
Joined: Wed Mar 17, 2004 12:55 pm
---
Ali wrote:...unlocking the secret of life and blowing everybody's mind with a new freaky kind of freedom...
Oh, you want that old thing? Where the heck did I put it? I swear it was here just the other day.
TUC Webmaster
Posts: 1291
Joined: Thu Apr 01, 2004 1:45 pm
---
---
Who is online
Users browsing this forum: No registered users and 0 guests