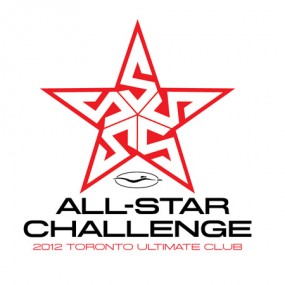 TUC's 5th annual All-Star Challenge showcased the top players from TUC summer leagues. Throughout the Summer season, captains are asked to nominate players as all-stars from the opposing teams that they play. From this, we created a divisional all-star team from each league night, for both the competitive and intermediate divisions (recreational team players are eligible for the intermediate division). All our All-Stars went home with a souvenir VC dry-fit jeresy! This years event also featured the 3rd annual TUC Legends versus TJSL All-Stars game, which will brought together some of the best junior talent in the city against the ol' vets and Hall of Fame members of the club. Lastly, this year the all-star challenge showcased the TUC Monday & Wednesday Summer League Championship Finals which will be aired on Rogers TV.
Check out all 8 of our All-Star team rosters to see who represented your league at the 2012 All-Star Challenge
Congrats to the Thursday All Stars who won the Competitive Division and the Monday All Stars who won the Intermediate Division!
COMPETITIVE RESULTS
| | |
| --- | --- |
| Semis: | Monday All-Stars 15 v. Tuesday All-Stars 10 |
|   | Thursday All-Stars 15 v. Wednesday All-Stars 8 |
| Finals: | Thursday All-Stars 14 v. Monday All-Stars 10 |
INTERMEDIATE RESULTS
| | |
| --- | --- |
| Semis: | Monday All-Stars 15 v. Tuesday All-Stars 11 |
|   | Thursday All-Stars 15 v. Wednesday All-Stars 12 |
| Finals: | Monday All-Stars 15 v. Thursday All-Stars 5 |
| | |
| --- | --- |
| | |
| Thursday Competitive Courtesy Ed Kung | Monday Intermediate Courtesy Ed Kung |
| | |
| Tuesday Competitive Courtesy Ed Kung | Wednesday Competitive Courtesy Ed Kung |
Post-game Legends and TJSL All-Stars Courtesy Ed Kung
Event Details
Date: September 15th, 2012
Time: 1pm-6pm
Location: Sunnybrook Park
Rules Format: Regular pull, 7-7 Ratio: 4:3
Cost: Free for Summer League players (by invitation only)
Brought to you by