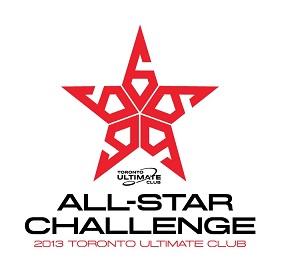 The 2013 All Star was an exciting day, full of rivalry action. For both the Intermediate and Competitive divisions, Monday defeated Tuesday 14-12 and 15-8 respectively sending both Monday teams straight through to the finals. Wednesday competitive beat Thursday 15-10 and Thursday intermediate beat Wednesday 15-7.
The Monday and Wednesday competitive teams took to the main field to duke it out on Rogers TV. In a surprise string of points the underdog Monday team started the game with back to back breaks to make it 4-0 before Wednesday got on the board. Wednesday were able to gain one break back before half at 9-6. Monday came out of the half on a rampage pushing the scoreline up to 15-7. Wednesday took on a late game charge leading into the final minutes but narrowly missed out on the epic comeback by 2 points. Monday took the game 17-15.
All Star Challenge Competitive Champions - Monday (in red)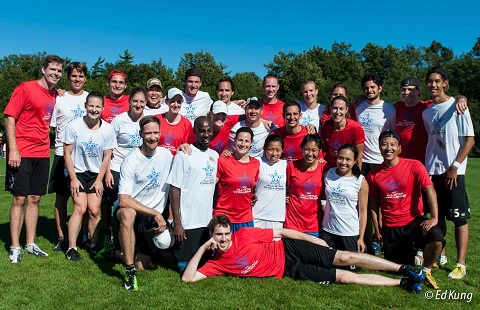 Courtesy Ed Kung
In the intermediate final, Thursday continued their strong play and took it away from Monday 15-10.
All Star Challenge Intermediate Champions - Thursday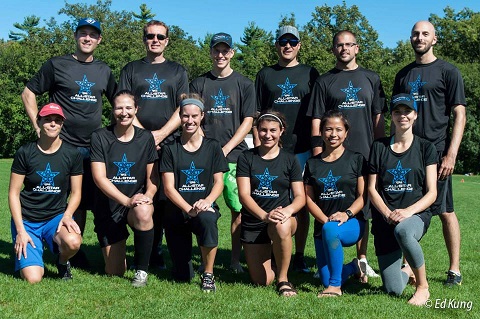 Courtesy Ed Kung
In the fourth installment of the TJSL All Stars vs TUC Legends exhibition game, the Legends remain undefeated as they racked up almost all the points and put on an ultimate clinic for the up and coming juniors.
TJSL All Stars vs TUC Legends Champions - TUC Legends (in white)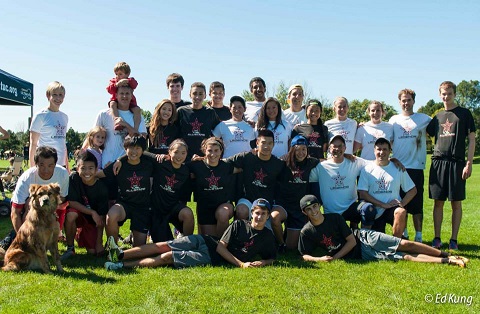 Courtesy Ed Kung
Event Details
Date: September 14th, 2013
Time: 11:30am-6pm
Location: Sunnybrook Park
Rules Format: Regular pull, 7-7 Ratio: 4:3
Cost: Free for Summer League players (by invitation only)
Schedule:
11:30am - 1pm: All Star Semi-Final Games (Intermediate & Competitive)
1pm - 2pm: Legends vs. TJSL All-Stars Game
2pm - 4pm: All Star Competitive Finals

(on Rogers TV)

and Intermediate Finals
4pm - 6pm: Wednesday Summer Competitive League Championship Finals

on Rogers TV
Brought to you by