The 2013 Women's Hat was a great success, seeing 80 players show up from as far as Durham and Kitchener-Waterloo.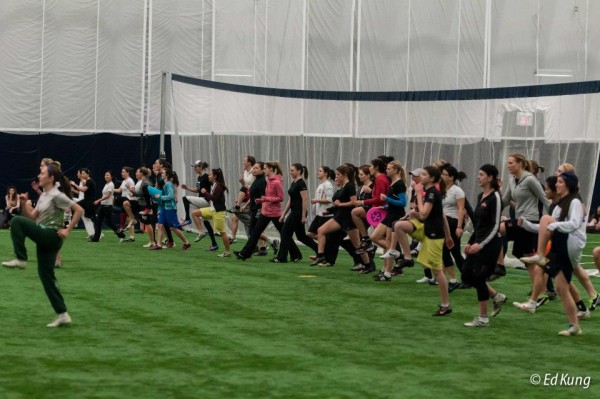 Courtesy Ed Kung
The Capitals did a great job of sharing their knowledge to all the up and comers, then demonstrating it in all of the games. There was a field dedicated to each of the divisions, Comp/Elite and Inter/Rec and a third field where ladies from all the divisions could mix together.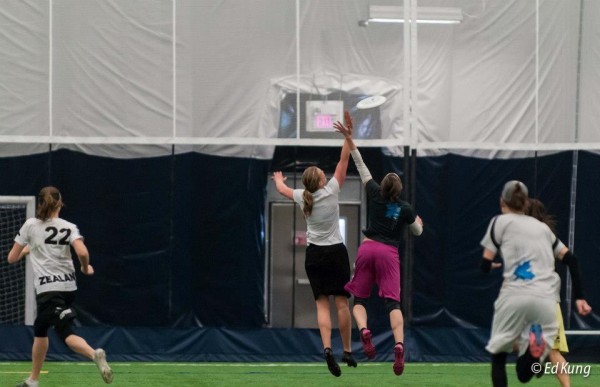 Courtesy Ed Kung
After 3 hours of solid playing, an MVP and an MSP (most spirited player) given prizes for their exceptional play. A winning team in each division was crowned in round four, before the teams all mixed again and played a fifth game that was just as intense as the finals were.
Competitive Champs

Courtesy Ed Kung
Intermediate Champs

Courtesy Ed Kung
A big thanks to TD Hadiya Roderique and all the ladies from the Capitals for their work to make Toronto's ladies an even bigger ultimate force than it already is.
---

The Women's Indoor Hat returns for 2013. Locked in for the weekend before Easter, this is a great opportunity to play and build up a sweat before a week of indulgence! With a strong turnout in 2012, expect the roster to fill up quickly with a great range of players from all levels of competition. Featuring mini coaching clinics from Toronto's elite touring ladies, it is also a great opportunity to learn from the best!
Event Details
Date: March 23th, 2013
Time: 3pm-6pm (3 hrs)
Location: Monarch Park
Format: Games and some coaching by Elite players, Indoor Speedpoint Rules, Footblocks allowed
Level of Play: Elite/Competitive and Intermediate/Recreational Divisions - Please note, there is no garuantee you will be placed in the division of your choice
Cost: $40 for TUC members, $45 for non-TUC members
Registration: TUC Members Non-TUC Members
Contact: events@tuc.org
Brought to you by