Registrations for Youth Programs and Leagues opens Wed Dec 7th at 10:00 am.
Please note, for 2022, our Junior Membership year will start April 1st, 2022 and run through to March 31st, 2023.
All Programs can be found here under "Individuals For Leagues"
Learn general Ultimate skills and develop an understanding of Spirit of the Game (SOTG) in a fun and cooperative environment. Participants will begin mastering the basic Ultimate skills through training and skill-specific drills. Structured competition is introduced to test skills learned in practice. Increased focus on Spirit of the Game will help participants develop emotional control, communication skills and sportsmanship.
Participants will be divided up according to age/skill level and grouped accordingly. All sessions are co-ed.
General Information
Sessions happen weekly.
No car, no problem! Games are in the same location each week to help facilitate carpooling.
Our youth league depends on volunteer coaches. If you are interested in volunteering as a Youth Coach, please email juniors@tuc.org.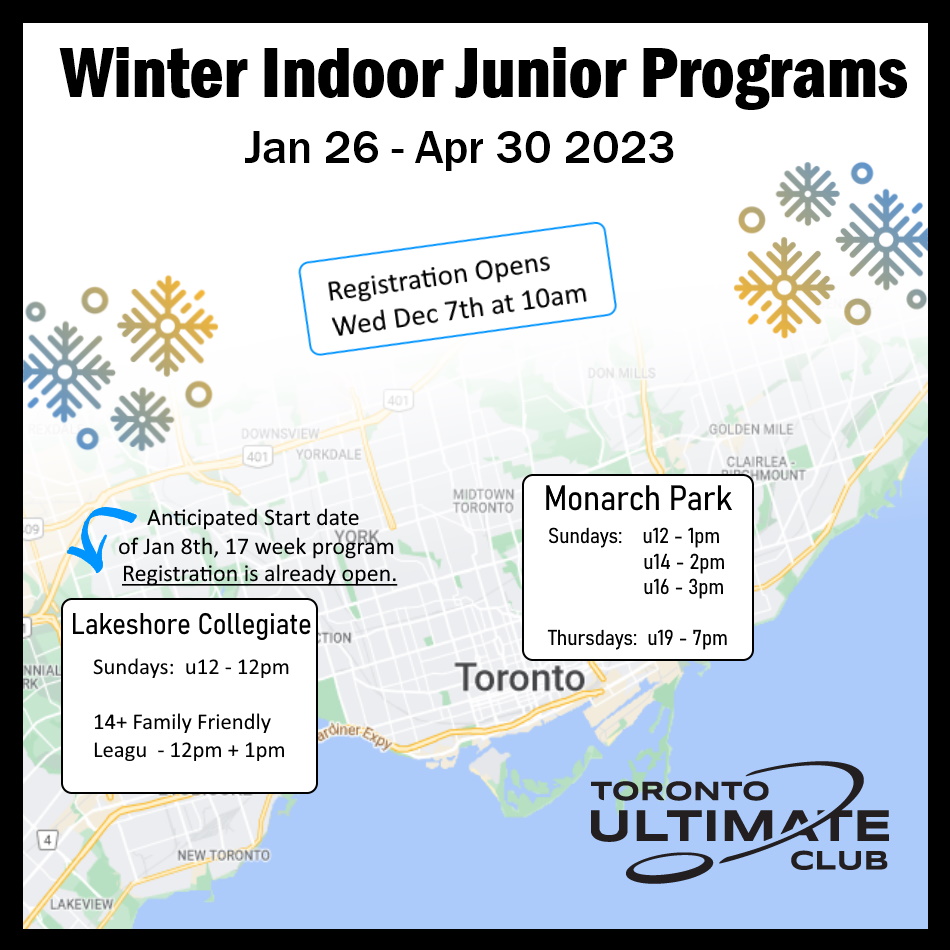 Junior and Young Adult Program and League Offerings
Registrations for Youth Programs and Leagues opens Wed Dec 7th at 10:00 am.
Masks will not be required at the fields, and we are excited to share that we will be reverting to our pre-pandemic rules (some off-field rules such as modified handshake lines may linger for a while). Please keep in mind that, as we have learned over the past 2 years, rules and policies are subject to change, and we will continue to follow health guidelines and share updates regularly with our members.
 
Participants 12 and older who eligible for vaccination must be vaccinated to comply with our current permits.