Event date:
Sunday, March 30, 2008 - 00:00

to

Thursday, March 23, 2023 - 16:42
The 2008 TUC All-Nighter Tournament took place on March 29/30 (Sat night/Sun morning). This event was in support of Easter Seals of Ontario, with all net proceeds helping children in need (amount TBA).  It took place at the Downsview Hangar and ran from 11:59pm (midnight) - 7am. Over 60 people participated. A big thanks to Max Quijano and Ofer Shai for running the tournament, to Downsview Hangar for providing the venue, and to all of our participants who are helping out a worthy cause!
Here is a pic of the winning team!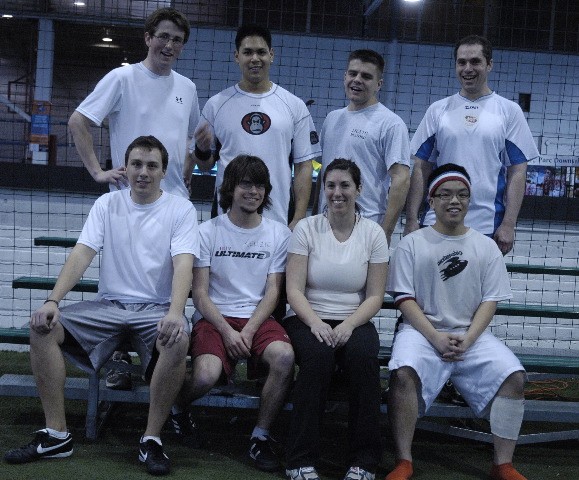 How it Works
Players register individually and are placed on teams. A tournament-style format ensues, with lots of prizing and fun activities in between. Slowly the nocturnal fatigue starts to set in, and people get a little 'crazy'. But the Ultimate doesn't stop and this is where the real fun begins! Eventually a champion is proclaimed and the biggest winner of all is our charity. Come join us for the next great All-Nighter Tournament!
Brought to you by