The arena was set, 80+ peasants gathered at Varsity Stadium to prove their might as the TUC Overlord searched for the first King and Queen of Toronto Ultimate. Round one halved the playing field, knocking 2 teams worth of players out of contention for the crown and started the search for the Court Jesters. Round Two saw all the players mix again, all the losers from the first round aiding their prospective Kings and Queens to their second win. Round three saw the first Court Jester, in Jessica Chen, the first player to lose all their games. Jess was soon joined by Chaz Legge, Daniel Wong and John Bura after rounds four and five.

Varsity playing fields. Courtesy Jack Lilwall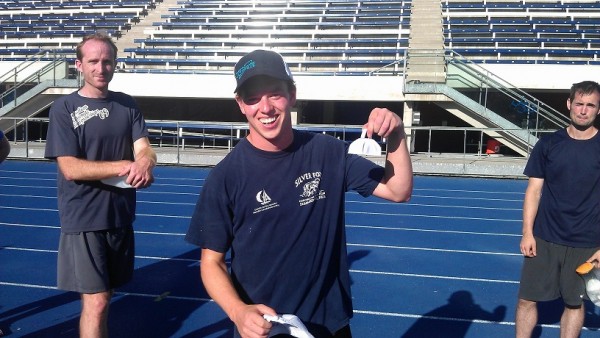 A Court Jester and a Jester Bell. Courtesy Jack Lilwall
There was much parity across the tournament as many teams were evenly matched. Six out of the ten games on the day were all decided in double game point. Very suspenseful for all the Royal hopefuls and their challengers on the sidelines.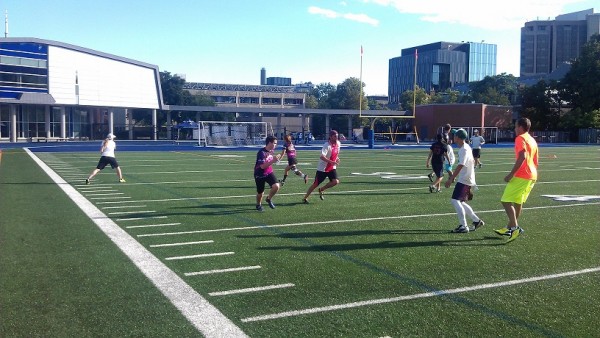 A swing after 5 possessions in double game point of game 3. Courtesy Jack Lilwall
But the story of the tournament is the finals. Victoria Nguyen entered the 5th and final round as the Queen of TUC after dispatching her last rival in the 4th round. The final was a game to decide the King. It was Ryan Marciniak vs Mark Tran. After a slow start from Mark's team, they rallied from behind to take the half and eventually the game 15-10. Mark Tran was crowned King along side Victoria with their custom designed King and Queen Hats. The Royals then jousted for their preferences of royal mead.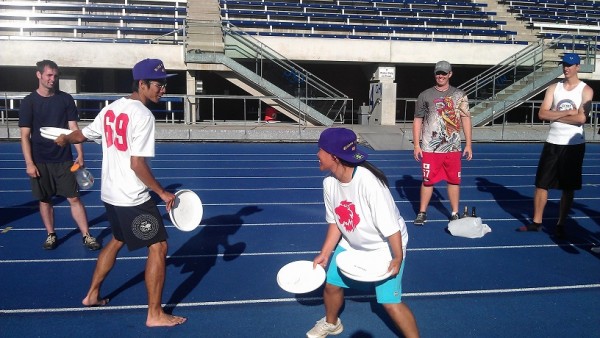 A joust between the two Royals to determine their prizes. Courtesy Jack Lilwall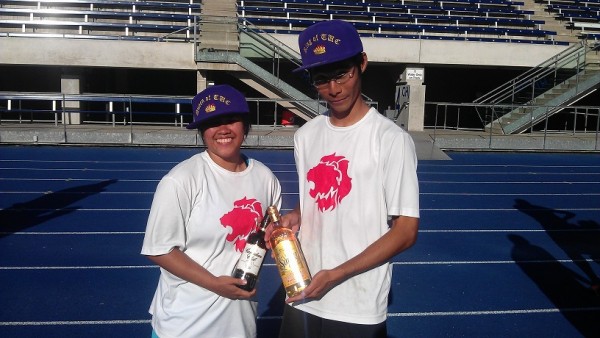 The first ever King and Queen of TUC, Mark Tran and Victoria Nguyen. Courtesy Jack Lilwall
Event Details
This year, the TUC August Hat will be host to a new format. A King and Queen is a format that will decide the King and Queen of TUC!
The tournament consists of a number of rounds of games where new teams are randomly created for each round. At the conclusion of the rounds each player is given points based on the team result from each game they played in (win: 3, draw: 2, lose: 1). The male and female with the most points are crowned the King and Queen of the tournament, while the male and female with the least points are appointed the as the Court Jesters.
There will be some two of a kind individualized prizes for the two tournament winners and plenty more goodies up for grabs! Make sure you register to get your shot!
Brought to you by