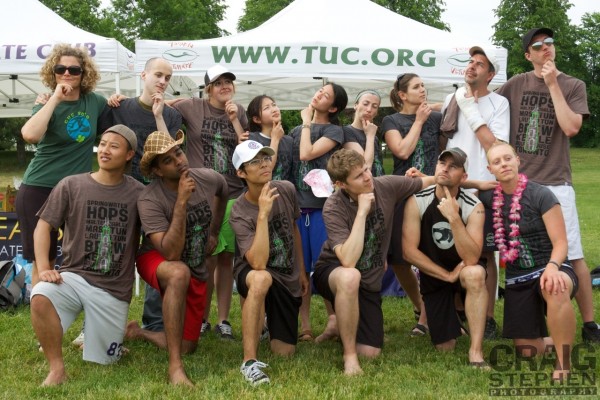 Courtesy Craig Stephen
On Saturday May 26th, over 100 participants gathered at Sunnybrook for the 2012 Spirit Hat Tournament. TUC's primary focus for hosting this tournament is the overall education and demonstration of Spirit of the Game by mentors, in an effort to develop greater spirit across TUC leagues. Tournament attendees were able to take part in two spirit clinics, encompassing SOTG explanations and anecdotes, group discussions on how to demonstrate and improve spirit, followed by role-scenarios and games. We were even lucky enough to have two special guests on hand, John C. Harris and Gary Auerbach, who came out to share their lengthy experience with Spirit of the Game and the sport of Ultimate in front of the entire group.
Our 2012 Spirit Mentors did an excellent job by sharing their knowledge with less experienced players. All participants had the chance to demonstrate their new found spirit in several fun-filled games throughout the day. This tournament included unique spirit challenges and teaching points in addition to regular game-play. Your 2012 Spirit Mentors are pictured in the above photo. 'Classic Will Ferrell Movies' was the tournament theme and players broke up into 8 great hat teams: Anchorman, Talladega Nights, Zoolander, Elf, Old School, Blades of Glory, Step Brothers, Semi-Pro. All teams provided tremendous competition and demonstrated great spirit. 8 MVP's were chosen at the end of the day, one from each team. They were awarded great prizes from Steam Whistle. Our 8 Spirit MVP's then battled in a disc jousting competition where one lucky winner received the grand prize Spirit package which included a free Steam Whistle group brewery tour. A huge thank you to our 2012 spirit mentors who helped make this our best Spirit Hat yet!
| | |
| --- | --- |
| | |
| Courtesy Craig Stephen | Courtesy Craig Stephen |

Event Details:
Times: 9am-4pm
Location: Sunnybrook Park
Format: 7-on-7 co-ed regular pull format
Level of Play: all skill levels
Contact: events@tuc.org
Brought to you by