Submitted by Jo Malisani on
2023 FALL OUTDOOR REGISTRATION INFORMATION
Our Fall Outdoor Programming registration will open Wednesday, August 9th, at 10:00 am.
ADULT LEAGUES AND PROGRAMMING
We are pleased to be able to offer the following leagues and development programs for our Adult Membership for the 2023 Fall Outdoor Season, starting September 11th!
All leagues will follow Fall Outdoor Speedpoint Rules and will be 7-on-7 except where noted!
Please note that some leagues are 4 weeks, and others are 5 or 6 weeks.
JUNIOR PROGRAMS AND LEAGUES
As a friendly reminder, registrations for our Fall Outdoor Junior Programs and Leagues will open on Wednesday, August 9th, at 1:00 pm!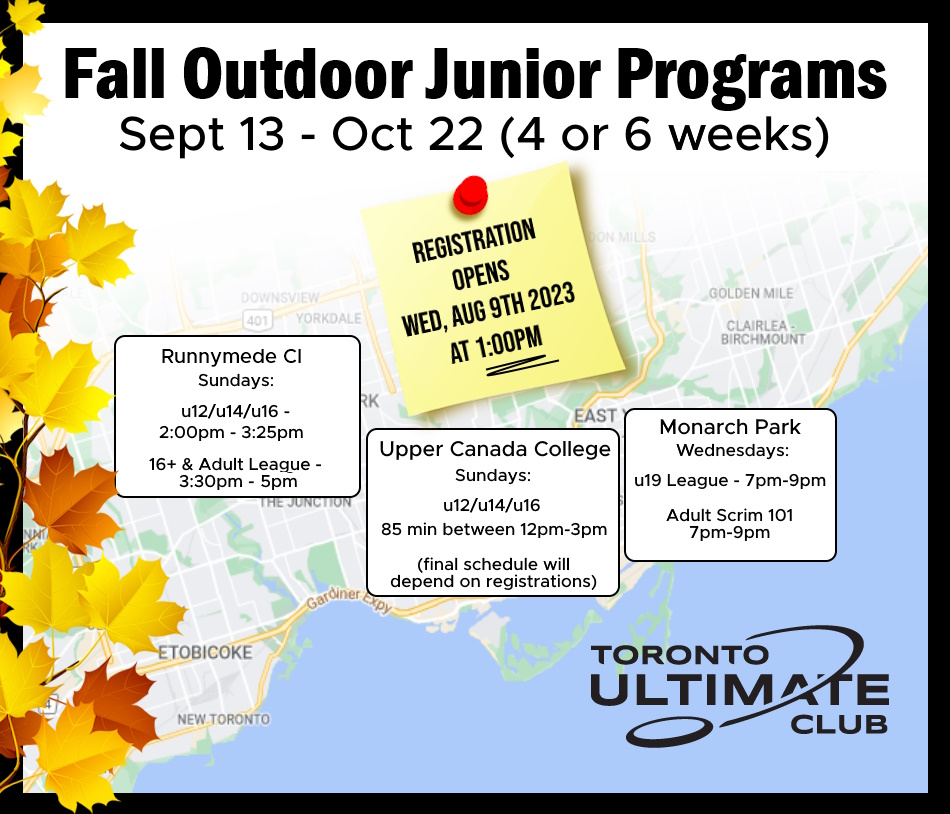 As mentioned in our previous newsletter announcing our Fall Outdoor Junior Programs, we will run a pilot with a new platform called CoCaptain for our Fall Outdoor Junior Program registrations.
HERE IS THE LINK TO THE COCAPTAIN REGISTRATION PLATFORM:  https://play.cocaptain.app/clubs/38d72af4-a16c-49cc-8b9d-0c5aa7f6f34c
When you select the link, you will need to Sign Up for an account (it is automatically approved). Please note if you create an account today, you will not see any program registration options. The options will only become visible on August 9th, when the portal opens!
Pilot FAQ
What is CoCaptain, and what is the pilot program?
CoCaptain is a new sports league management and registration software platform that TUC is piloting this year with our Juniors Fall Outdoor program. We hope CoCaptain provides a smoother experience for parents registering their children into TUC programs, especially when using a mobile device. We welcome feedback on your experience during the pilot program, as it will inform our decision to expand CoCaptain in the future.
Will I need to create a new account?
Yes, you will need to create a new account with CoCaptain, as your profile data from Zuluru (our current software platform) will not transfer over. Creating an account is easy; you can even sign up with your Google or Apple ID. As a plus, with CoCaptain, you do not need multiple accounts to register your children. You can use a single account for all your registration needs.
What if I already purchased a TUC membership?
If you've previously purchased a 2023 Membership for someone you are registering into the Summer-2 program, you do not need to buy a membership for them again through CoCaptain. Conversely, for each individual you are registering that is not already an active member, please add "2023 Junior Membership" to your cart in CoCaptain. All players must be active members to participate in programming.
What about adult offerings, clinics, and events?
Our adult programs and clinics/events will remain with our existing software platform (Zuluru). At this time, we do not have any plans to move these to CoCaptain. If you already have an account with Zuluru, you will continue to have access to this account for historical Junior's program data and use it for all adult and clinic/event registration.