The first ever TUC Hall of Fame induction took place on October 22, 2010, as we celebrated the 30 Year Anniversary of the Toronto Ultimate Club.
Inaugural Class 2010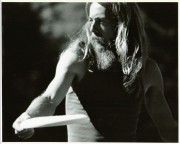 Known as 'The Legend', Ken Westerfield started playing disc sports in Michigan in the 1960's and came to Toronto in the early 1970's. Ken and his friend Jim Kenner (founder of Discraft) ran the first ever Canadian GUTS and Distance competition at the C.N.E. in 1972, adding Freestyle in 1974 (oldest Freestyle tournament). In 1975 Ken secured the first-ever corporate sponsorship for these 'Canadian Open Frisbee Championships' and he and Jim formed the Molson's Frisbee Team. Ken was a world-level freestyler and disc golfer and he traveled throughout the globe with his Frisbee, winning numerous tournaments and performing at universities, fairs, and arenas. He consistently challenged world records, including setting the record for Maximum Time Aloft in 1975 with a sidearm throw of 15 seconds (crushing the old record of 11 seconds), and joining the exclusive '400 Club' in 1977 with his prelim distance throw, (he won the event with a sidearm throw of 378 feet). Only two competitors have officially ever thrown over 400 feet in competition with a 119-gram Frisbee (Lightweight disc by today's standard). Also in 1978 while doing a distance throwing demonstration at a North American Series (NAS) Event, Westerfield threw a sidearm 119-gram World Class Model Frisbee 552 feet, shattering the official world distance record of 412 feet. Since the introduction of heavy weight, sharp edge disc, the world record is now over 800 feet, however Westerfield's 552 feet is still the record for the sidearm throw.
In the late 1970's Ken discovered the game of Ultimate in the USA and brought it to Toronto. He introduced the game at Kew Beach to an initial core of people and from there planted the seed for Ultimate Frisbee in Toronto. Ken was larger than life to this growing core of players who craved increased knowledge and skill development. He and Chris officially started the Toronto Ultimate league shortly thereafter and began to schedule a few fixed games with the original 4 teams. Not only was he an architect for the origins of the TUC, but Ken's influence as a player and a person made his reputation legendary. Simply put, he was the point man on all aspects of disc play, the "go to" guy that everyone looked up to.
In the mid 80's, the gentle giant (in his 40's) decided that he wanted to tour and joined the young touring team Darkside. Ken toured for a number of years until foot injuries ruled the day and forced the sidelining of his passion. But as any of the young group of men he played with will testify, he is remembered best for his easy going and boyish love of the game, while continuing to excel in his ability to play at the highest levels. Respected and admired by all who crossed his path, these are perhaps his most enduring qualities.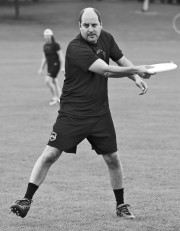 Chris Lowcock was first introduced to disc sports by his brother Les, who was the Canadian University Freestyle Champ in 1978. By 1980 he was immersed into the disc scene and began to build schedules, coordinate fields, and recruit sponsors for the Toronto Ultimate League. Chris organized the first ever league shirts (1983) and was responsible for acquiring a permit at Rosehill Reservoir, which has been a fixture in TUC leagues for 25 years. He acted as President of the Toronto Ultimate League all the way through to 1991, when he stepped down and assumed the role as Events Director for the 1991 World Ultimate Club Championships in Toronto. These championships set the gold standard for Ultimate tournaments in the years to follow.
Chris' disc sports resume is extensive. He served on the World Flying Disc Federation (WFDF) Board (representing Canada) from 1984 to 1992. He formed the Disc Involvement Society of Canada (DISCANADA) in 1985 to seek government support of disc sports and represent the sport nationally. In 1988 he helped to lay the groundwork for the Canadian Ultimate Players Association as well as run the Canadian Ultimate Championships. In 2004 and 2005, Chris served as the General Manager for the Toronto Ultimate Club, helping the Club to reach over 3000 members for the first time. In 2006, he took on the roles of President and then Executive Director for the Ontario Disc Sports Association, which is the provincial body representing disc sports. Chris was instrumental in forming this association, which has gained recognition and funding for disc sports in Ontario.
As a player, Chris excelled in various disciplines. In Distance he won an amateur title at an early age and turned Professional. He competed in the 1985 WFDF Disc Golf World Championships, where he established the longest 'Hole In One' record for WFDF disc golf championships at 354 feet. Chris also competed in a few PDGA World Championships in 1984, 1987, and 1988 and continues to play in PDGA sanctioned events. He has represented Team Canada in both GUTS and Ultimate and competed at the WFDF World Championships in 1984, 1986, 1988 - 1991, and 2008, with two silver medals in GUTS. In the Toronto scene, he was part of Agent Orange which was a top team in the mid-80's and became Clockwork Orange, winning officially in 1988. Chris also competed on Toronto team Darkside which won the first official National Championships in 1987.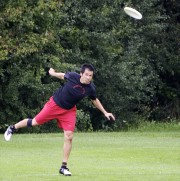 In 1979 James Lim was one of the original people to give birth to Ultimate in Toronto. He helped Ken Westerfield and Bob Blakely to organize the first Toronto Ultimate League games and did so up to 1985. Jim, as he is well known, was a member of the very first team 'Beaches' and was captain of every team stemming from the Beaches team, leading all the way from the early 80's to today's team Hot Cuzns. Jim has been a proud member of the Club every year since its inception, including when he was overseas.
Jim joined the TUL/TUC Board of Directors in the late 1980's, and again for a second time in the early 2000's, and was a key member of the Organizing Committee for TUC's hosting of the 1991 WFDF Worlds in Toronto. His voluntary work for the TUC is long and historic; from tirelessly teaching school kids, to helping at tourneys, assisting the league operations, demonstration games, television broadcasting, helping at the Toronto Nationals and TUT Tournaments, formulating a TUC Found Fields Policy, modifying the design of the TUC disc for the 15th anniversary edition, to creating and designing the very first version of the Pie Plate in 1992.
As a player Jim played in all the Can-Am matches that were part of the Canadian Open Frisbee Championships, and represented Toronto on touring teams from 1986 through to 2004 (winning his first Nats with Darkside in 1987). He also coached Ruby Cruz in 2003 and 2004. Jim has played continuously in Toronto since 1979 and is known as a forefather of Ultimate in Toronto.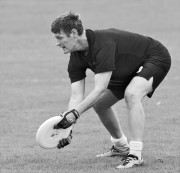 John Harris came to Toronto in 1989 and immediately joined the likes of Seven Deadly Sins, Dr. Gravity and the Big Kahunas. He also played (and captained) on Toronto's touring teams continuously from 1989 – 2006 with teams such as Zero Tolerance, Surrender Dorothy, B.A.D., Too Bad, and Aged to Perfection. John is known widely for his contagious Spirit (he wrote the 5 Step How-To Guide) and his handling dexterity, but where John made his largest impact is as a Builder of the Club.
In terms of the sheer volume of voluntary work throughout the 1990's, John's contribution was immeasurable. In 1992 he first served as the Secretary for the TUC and from there his roles multiplied. He served as Touring Director in 1993-1994, Fields Coordinator from 1995-1997, Spring Clinics Coordinator 1995 – 2003, Treasurer in 2000, and General Manager from 2001-2003. As a primary bookkeeper for the TUC, John was instrumental in validating and organizing the TUC's finances. His belief in 'ultimate for all' drove him to identify and acquire permits for unused green spaces throughout the City, as well as forge new field partnerships for the TUC. He paved the way for more teams and players at a time when TUC was growing exponentially.
John served as Tournament Director for the Toronto Ultimate Tournament (TUT) from 1994 – 1996 and again from 1998 – 2004, as well as many Eastern University (7) & National (6) University Championships. Not to mention his run as TD for the Canadian Ultimate Championships in Toronto in 1996! This involved hundreds of hours and countless personal sacrifices. John Harris was the 'ultimate' volunteer for the TUC.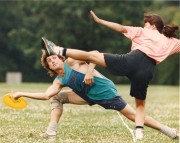 Arriving on the beach one day in the early 80's with his patented, 'Hey Y'All!' Alex Hughes was a Freestyler, pro disc golfer and an amazing ultimate player. He brought his talents to various league teams (Beaches, Island Worms, Sally Ann, Get a Grip, Synergy), winning 3 League titles. Alex was exceptionally strong in all facets of the game (throws, cuts, bids, sky's) but he was particularly known for his jumping ability – which initially earned him the nickname 'Sky King'. With his Texan drawl and his fiery competitiveness, the nickname then morphed to 'Sky Dog' and stuck for good.
Alex represented Canada at the World Championships in 1984 and was part of the Darkside squad that won the first Canadian Ultimate Championships in 1987. He participated on 4 National Teams in total, participating in both Ultimate and GUTS. Alex continued to tour for Toronto until 2000, when he returned to the Lone Star state.
One of the early ambassadors of the game at the juniors level, Alex visited many schools (when no one else would) and wowed youngsters with his skills. He was extremely influential in introducing the sport to Phys-Ed teachers and developing a school ultimate program. Alex also selflessly devoted his time to TUC leagues and tournaments.
While the Sky Dog was known for many years as the unequivocal 'best' player around, he was equally known for his spirit—always complimenting and encouraging his opponents. Despite that competitive fire, Alex would never make it personal and would always respect his opponent's call.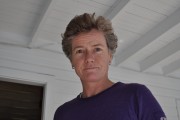 Known as one of the most intense and athletic female players to ever hit the Toronto scene, Gillian Scarfe began playing in 1987 with a league team called Big Dogs. In 1989 she joined the touring team See Jane Run and led the team to a 4 year National Championship domination. See Jane Run was unstoppable from 1989 – 1992, and Gillian was credited for bringing a level of athleticism to the team that made it a dynasty, as well as elevating the women's game overall.
Gillian was the first Canadian female to participate in the US (UPA) Nationals in 1991. Following the breakup of See Jane Run in 1993, she joined the Ottawa team Horizontelle and helped them win the National Championship as well as place 3rd at the World Championships. The next year she joined the Toronto open touring team PAM! (at the age of 30) and easily held her ground with the competitive males. In 1995 and 1996 Gillian led two rebuilding women's teams (Layout Sisters and Game Face) to the National Finals. Gillian also participated in the 1990 and 1996 World Championships (5th place finishes).
Her intensity as a player, captain, and coach was unmatched and simply put, Gillian dominated the competition for nearly a decade. She was a very tactical and knowledgeable coach, who quickly earned the respect of her teammates. Gillian demanded that her teammates strive to play their personal best, and she led by example. This on-field persona was so fierce in fact, that her final touring team 'Game Face' was named after her!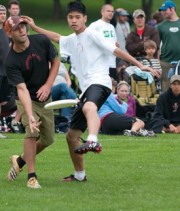 Dan Jedrzejek started playing Ultimate in 1991 and by the mid-90's was known as one of the best players in Toronto. He was a 2-time Canadian National Team Selection (1994 & 1996) and helped lead Team Canada to a Bronze medal in 1994. He played at 9 consecutive Canadian National Championships and was a two-time finalist in 1991 and 1996. He was also a two-time TUC League Champion with Ultimate High (1993 – Finals MVP and 1995) and played with top-level team Hot Cousins for several years.
In 1998 Danny was a co-founder and leader of the Toronto touring open team YES. YES was a strong team at Nationals for several years, and led to the formation of team GOAT that won the National title in 2002. Unfortunately Danny did not get to play on GOAT as he was forced to retire after the 1999 Nationals due to injury.
Dan was a legendary player during his era. He was lighting quick and could close in on the disc from anywhere. He had the amazing ability to not only layout and make amazing defensive plays, but also to hold on to the disc and get up and make a throw for a score. In nearly every game he played, Danny would produce an awe-inspiring sky or d-bid that took your breath away, plays you would normally see once or twice a year from anyone else. He had the rare ability to turn the momentum of any game around and his teammates fed off the immense energy he brought to the field every night.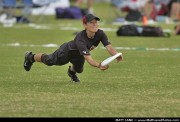 Ageless. Tenacious. Poised. Huge layout grabs. In the 1990's through the 2000's, Monica Kerr-Coster was undoubtedly one of the strongest female players in the country. She had every throw, understood the complexities and strategy of the game, was a strong defender and showcased the best layout of any female player.
Monica became obsessed with Ultimate by 1994, playing league and joining the women's touring team Layout Sisters. She played in 14 Canadian National Championships total, reaching the finals 8 times and twice winning gold. Monica has also played in 7 US (UPA) Nationals (twice winning Spirit of the Game Awards) and the World Club Championships in 1997. She starred as captain, coach, and player on high level teams such as Game Face, Urge, Lotus and Capitals. Her league teams included Purple Haze, Bug Red, and Guanxi (2005 Champions).
Monica was always selflessly supporting TUC feeder teams and juniors programs. She helped coach DIRT in 2007, served on the Board of Directors for two years, and was the Women's Touring Chair for 4 years. Monica was a major proponent of the gender switch from 5:2 to 4:3 in the late 1990's. She strongly advocated for the expansion of women's ultimate in Toronto by bolstering ladies' touring, hosting numerous female clinics, gathering petitions, advertising for players, and by physically linking new female players to teams.
Monica showed that the women's game is an extremely competitive, fast paced, strategic, cohesive and addictive sport. Along with her athletic prowess, she embodied a calm Spirit and warmth that made every experience with her fun and memorable. Monica was an inspiring mentor to many young players (and still is today), and one of the most influential people in TUC history.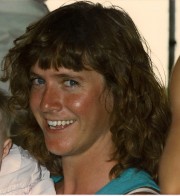 The great gal affectionately known as 'Momma Jo', Joanne Gallagher started playing disc golf on the island in 1981, and it soon led to her playing Ultimate at Kew Beach. She was the original female player for Toronto Ultimate and was ever-present throughout its history as an Ultimate player and world level disc golfer.
Joanne competed at the WFDF Disc Golf Championships in 1985 (placing 5th) and tied for 1st Place in the 'Overall' Division in the 1989 WFDF World Championships. In 1991 she received a tournament award for 'Friendliest and Most Spirited Player'.
As a touring player she attended 10 National Ultimate Championships and in 1997 she competed in three major tournaments in three weeks: Canadian Nationals in Victoria, World Club Championships in Vancouver, and the WFDF World Masters Overall Championships where she finished tied for 1st.
Joanne was a major advocate for the gender ratio conversion to 4:3 in the mid-late 90's, assisting with women's clinics, forming petitions, and through her own ability showing how impactful female players could be on the field. She would consistently participate on new co-ed teams each year, whether at league or in tournaments, in an effort to meet new people and share her positive outlook on life.
In a sport dominated by men, Joanne was highly influential in paving the way for future generations of female players. Her longevity in the sport is remarkable, not only as a strong player, but as a spirited individual who has impacted the lives of many Ultimate players in Toronto.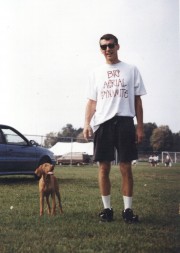 Harry first formed the Big Kahunas in 1991, who are arguably the longest continuing teams in TUC history (20th season in 2010). He has been at the helm of every season for the Kahunas, as well as his fall team Red October (winner of 8 Fall League titles and Finalist every year). In 2007 the Sunday Fall Trophy was named after Harry's dogs, Barley & Hops, in recognition of his services to the Club (and their presence on the sidelines for many years).
Always the consummate captain and coach, Harry formed the open touring team Big Aerial Dynamite (B.A.D.) in 1994. BAD went 8-1 at the Nationals in 1995, and then became known as Too Bad in 1996. Too Bad is the longest continuous touring team in Canadian history, celebrating 17 years in 2010. The team has participated in 15 Canadian National Championships and 4 World Clubs to date, and captured the Spirit Award at the Nationals in 2005 and 2007. A long list of ultimate heroes have played on Too Bad and Harry has helped mold many young talents along the way.
Harry has volunteered hundreds of hours to the Toronto Ultimate Club since 1992. He was the League Director for 3 years where he developed league software and worked tirelessly to ensure that leagues ran smoothly. Harry was monumental in helping the Club to file for incorporation in 1995 and establish a set of governing By-Laws. He has graciously acted as legal adviser for TUC since and has actively participated in hot-topic discussions that have shaped the Club. Harry's contributions to the Club and the sport have been immense, widespread, and invaluable. His teams (league and touring) have lasted longer than any other, his volunteer commitment to the Club through two decades has been profound, and his footprint on the development of ultimate players in Toronto has been astounding.