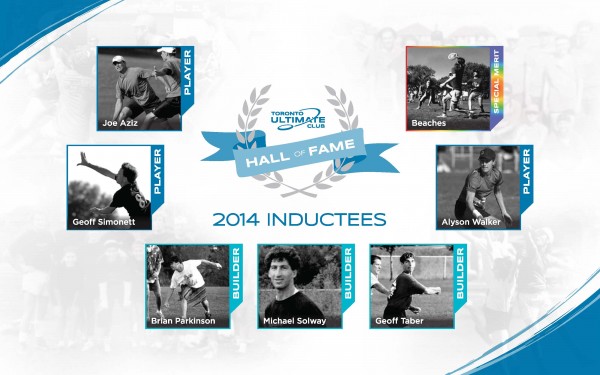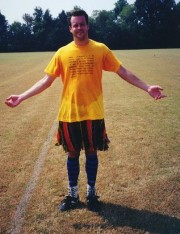 Brian (or Parki) is best known for his tireless work ushering the TUC into the information age in the mid 1990's. Through his stewardship the TUC entered a new era of communication which would revolutionize the Club. He was also instrumental in the formation of several leagues and the founding of the Zodiac Tournament.
Parki began playing Ultimate in the mid-1990's with his first team called the Dead Dogs. After a couple of seasons with the Dogs, he joined a team run by John Harris called SOTG (Seven Oddballs Trampling Grass) and then moved on to a famously fun and quirky team in the league called LMNO. He played with LMNO for many years before joining a team called Bug Red where he finished out his ultimate career. Parki competed at the touring level as well, playing at the Canadian Nationals in 1996 (Toronto) and 1998 (Quebec), at World Clubs in 1997 (Vancouver) and the World Clubs in 1998 (Blaine). He travelled to many fun and competitive coed tournaments such as Goosebowl, Potlatch and the Kentucky Heat Fest. LMNO won the Gender Blender spirit award in its inaugural year and Parki won the Gender Blender trophy with the Herb and Mary Jane crew in his last year attending this epic tournament.
Joining the TUC Board in 1998, Parki knew that he was someone who could help make the machinery of the TUC work a little more efficiently, get membership under control with a proper database and improve league communications. TUC leaders had relied on hundreds of phone calls and faxes to team captains each year. Previous Board members had looked into a web site, but Brian took it to a new level. The membership gained a direct connection to the executive and management that bypassed this bottleneck. The online discussion boards suddenly sprung up as the most important of all channels for discussing issues and taking the temperature of the TUC membership.
This change of communication technology and strategy dramatically invigorated the TUC. Brian's work gave the Club the means for disseminating information more quickly and with a greater reach than ever before (1500+ players). That translated into a much more active channel for TUC member engagement (volunteering, event & league notices, touring team plans, etc.) and it also resulted in a surge of new members. Once a payment system was finally added to the website, TUC finally had found the most efficient system possible for managing its own affairs. While the web system has evolved with the times and the changing technology, the whole system remains the lynchpin of TUC's administration and communication.
Brian also organized and ran the very first fall league in 1995, and co-developed and directed (with Dan Berman and others) the very first indoor winter league in 1998 and 1999 (Hogtown Winter Indoor Disc Pigs). He coordinated registration, the captain's draft night, and captain email communications using a home rolled Perl database script. He was also a co-founder (along with Bob Anglin) and Tournament Director for the Zodiac Tournament from 1998-2002. This unique event focused on spirited play and a good cause (The Children's Wish Foundation), and it still exists today, rotating annually between Toronto and Rochester.
Parki was dedicated to making ultimate fun both on the field and behind the scenes, dedicated to providing new opportunities for people to discover this great sport, and dedicated to the pure joy of playing and the spirit of good play. He single-handedly carried the burden of building and maintaining the TUC web system over a long period of time. The most inspiring part about Brian's contribution is that he always engaged with the process and its burdens because he recognized that it was for the greater good of the entire community. The TUC community really needed him, even though many did not totally understand how much, and he simply stepped up and got the job done.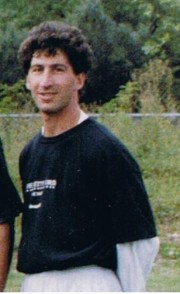 Michael Solway was a champion of the Toronto Ultimate League (TUL) in the late 1980's and early 1990's who not only ensured the league's survival, but it's ability to prosper. He began the journey with his first team: Wild Thing.
Wild Thing was a signature landmark for the TUL as it was an intense team. Seemingly coming out of nowhere, it played an aggressive style of Ultimate and introduced a whole new level of speedsters and flyers. In its first two years (1989 & 1990) and with the Michael and Geoff Taber at the helm the team won back to back-to-back titles. The dynamic duo applied coaching strategies from other sports to give Wild Thing a winning advantage and forever change the league landscape.
Mike and Geoff were Co-Presidents of the TUL in 1991 and 1992 and they were instrumental in breaking down barriers surrounding the sport of Ultimate and in bringing a new group of athletes into the Toronto Ultimate community. Michael actively recruited football and rugby players to try out the sport. He understood the value of women in Ultimate and sought to acquire the best female players on his teams, often recruiting them from other sports. After winning league championships with Wild Thing, Mike left the team so that he could accommodate many of these new players and formed Synergy, which promptly became the new super team - winning TUL titles in 1991 and 1992. That's four straight titles with two completely different teams! He also formed Soup Flies and won an additional league title with Get A Grip in 1994, totaling five in six years. Many of his recruits went on to become mainstays of the Club and in the Toronto touring scene throughout the 1990's.
Michael and Geoff were a cohesive team that propelled TUC to a new level and they aspired for the TUL to be more than just a small league. Michael volunteered countless hours not only in building teams, but in advancing TUL fields, convening and scheduling, and continuing the Rogers TV coverage that would bring TUL league games to viewers for many years. As Fields Coordinator for from 1992-1994, he actively engaged City councilors so that the league could expand beyond Rosehill Reservoir and Sir Winston Churchill Park. Mike was also a big proponent for a tiered league and a playoff structure that would further bring legitimacy to the league. He and Geoff developed the two-day playoff weekend tournament that would take place in North Toronto and expand each year. The pair also transitioned the male/female ratio from 6:1 to 5:2 and increased female participation dramatically.
When he stepped down from his roles in the mid-1990's, Michael left behind a functional and vibrant league that was on the brink of a massive expansion era. With new players, new standards, and new relationships the TUL was now a big-time player in the Toronto sport community.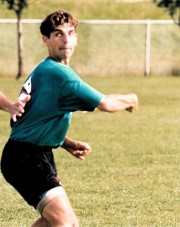 Geoff Taber was a builder of the Toronto Ultimate scene starting in the late 1980's and early 1990's and is credited with creating momentum that helped to make Ultimate in Toronto such a growing and appealing sport. He played in undergrad (in New Jersey) in the late 1970's and learned from some of the characters who invented the game. When Geoff moved to Toronto he instantly became entrenched in the Ultimate scene.
When Geoff first joined the Toronto Ultimate League (TUL) in 1987, Ultimate quickly became all-consuming and he was determined to invigorate its small group of teams that knew each other all too well. He joined Michael Solway as Co-President (1991-1992) and the two spent tens of hours each week building the TUL. They recruited athletes from other sports (Geoff mostly from basketball, Mike from football), co-hosting skill clinics for newcomers.
Geoff and Mike formed a new team – Wild Thing – with several friends from outside the league and achieved instant success. Wild Thing was a signature landmark for TUL teams – it was an intense team that came to the TUL seemingly fully formed. They brought an aggressive style of Ultimate and introduced a new level of speedster and flyers. In its first two years (1989 & 1990) and with Geoff as one of the team's main handlers, the team won back to back-to-back titles. The team then branched out into further teams, the main spawns being Synergy which won the following two years and Soup Flies which was an annual contender. The TUL expanded from twenty teams to thirty two teams by 1994.
Not only were the teams increasing as Geoff co-directed the league, but so too was the level of play. The efforts of Geoff and Michael brought an influx of athleticism that the league had not seen before. Blending these new athletes with quality players raised the quality of the league exponentially and Geoff was a master team builder. The pair transitioned the male/female ratio to 5:2 from 6:1 and they subsequently recruited a new class of female players. They also created the first TUC Summer Playoff Tournament which was held in North Toronto and today still acts as the summer league championships.
Geoff and Mike Solway are being inducted together – which is fitting because the two of them, working well together, were instrumental behind the scenes in legitimizing the Club. Under their leadership the TUL became more structured through the implementation of a league fee system, formalizing the league's field permits with the City, and improving its scheduling. They also expanded upon a nascent relationship with the local Rogers TV affiliate station that enhanced the TUL's local exposure. Geoff continued on as a Board member in 1993 and 1994, helping to further develop the Club.
Many playing Ultimate today owe their start to Geoff. His passion for the sport and his intense focus transitioned the Club into a new era. When he stepped down from his co-President role he left behind a collection of super-competitive teams, money in the bank, credibility with the City and city-wide exposure.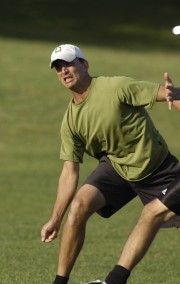 Joe's style of play can be characterized as having unlimited intensity – which he delivered in every game and thus evolved into a first-line player for every position on the field. As a handler who was always open, to a striker who 'never' dropped a disc, to laying out hard on 'D' when most others would have given up, to clamping down on opponents' best handlers, Joe could always be counted on for pursuing the disc until the very end… and subjecting his body to bone-crushing punishment along the way.
Joe began his first year of Ultimate in 1990, quickly establishing his presence at Rosehill Reservoir (ultimate central back then) like a lion claiming his territory. That same year, he made it onto the Men's Open team. Joe was then an integral part of the TUC dynasty team, Synergy, competing in the league's top division finals for six straight years and winning three championships in a row from 1991-94 (Synergy & Get A Grip), and was named league MVP in 1994. He had only played four years at this point! With Synergy/Get A Grip folding on that high note, Joe brought together members of the team to join forces with Beaches and continued to play with the same intensity as that team continued to make the semi-finals or finals of the Wednesday Competitive division nearly every year. He still competes in this top division and next year will mark his 25th season!
He was one of the main forces on the city's Open teams, representing Toronto at twelve Nationals between 1993 and 2007, winning several championships. Joe was part of the leadership group of the Toronto Open team from 1994-1997, and was instrumental as one of the core who formed YES, later to be renamed as GOAT. Throughout his ultimate career, Joe has competed and won many high-level Open tournaments in North America. He has competed for Canada at three World Championships, coming home with one Bronze, one Silver medal, and a World Champion Gold medal in 1998. Joe was also often invited to play in major international tournaments, sought out for his ability to be the equalizer against the world's elite players. More recently, at the young age of 50, Joe was pivotal as a member of the team representing Toronto Open Masters – Tombstone, the team that dominated the field winning the National championships in 2007 and a Silver medal at Worlds 2008 in Vancouver.
It is hard to think of many others in TUC who have had that much impact as a player over that long a period of time – 1990 to 2014. He has always been a fierce competitor, but with class and integrity - the type of player you always want on your team and at your after-tourney celebration. Joe was one of the two or three players to be put on against the opposition's best players. He led by example in practices, raising the level of intensity with inspirational effort and dedication. As well as his on-field accomplishments, Joe's commitment extended to the Ultimate community as an administrative volunteer for TUC in 1993 and 1994.
Twenty five years ago, it started with six simple words at an Open team practice, "Can I play with you guys?" These days he still holds court on the field, dominating at the Masters touring level and laying out with the newest crop of touring players in the Wednesday Competitive division.
Geoff played in the Toronto Ultimate League beginning in 1993, with teams that included Flatliners, Pull Pee Wee Pull, and Hot Cousin. He was an instant threat on the ultimate field. Although Geoff was best known as a deep threat, he quickly became a top handler and key role player on every Club team. By the mid-1990's he was a captain and the one that every player looked up to. While on PeeWee, Geoff won league championships in 2000 and 2004, a run that saw PeeWee make the semi-finals or finals each year from 1997 to 2006. In 2010, he was MVP of the annual All-Star Challenge, leading team Wednesday - Hump Day, to victory.
'Simo' also started touring in 1993, playing on teams that included BAD (Big Aerial Dynamite), Pam, Orange Crush, Rebellion, Yes, GOAT, JoyStik, and Tombstone. He won the Canadian Ultimate Championships twice, in 2002 with GOAT (Open), and again in 2007 with Tombstone (Masters). He won numerous tournaments as a touring player including TUT, No Borders, Boston, Jazz Fest, Solstice and Goose Bowl as well as qualifying for the UPA Series. Geoff captained many teams including Rebellion, Yes, and GOAT, and was a founding member of GOAT. He helped establish the current (as of 2014) Toronto open touring team system, where a succession of teams serve as development platforms to prepare players for regional, national and international competition. GOAT also combined forces with Ottawa and Eastern Ontario players to send strong Ontario representation to the major USA Club tournaments.
Internationally, Geoff played in worlds twice, first with team Orange Crush in 1997 and then thirteen years later with Tombstone (Canada) in 2008, earning a Silver medal.
In the late 1990s and early 2000s Geoff was considered one of the best athletes, and most consistent players, in the Toronto ultimate scene. He was always looked up to as a leader on and off the field, and introduced many people to Ultimate, playing with a quiet demeanour and great spirit. He was also known as a game changer because of his incredible leaping ability, and knack for always coming down with the disc, even in heavy aerial traffic. Opponents would think he had jumped too early for a disc, only to watch in amazement as he hung in the air and came down with it. Defensively, his athleticism, instincts and endurance kept opponents on their toes. Simo was often responsible for the other team's top threat. He was deceptively fast, impossible to defend, and often took his game to a level that others could not match. Best of all, he was an exceptional teammate who was liked by teammates and opponents alike.
In the words of one of his Hall of Fame peers: "understated and generally quiet presence, but an absolutely dominant player who could take a game over by himself." Geoff maintained that dominance for over twenty years and is truly one of the great Toronto Ultimate legends.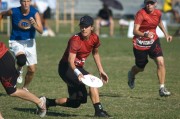 Passion, motivation, grit, determination, integrity and hard work were the trademark qualities of Alyson Walker, one of the fiercest athletes and competitors the sport has ever seen.
Alyson was first introduced to Ultimate in the summer of 2001 when she picked up with a women's team called Team Betty for Canadian Nationals. Her athletic abilities and ultimate potential were quickly noticed and she was picked up by Fuse (predecessor to Capitals) to play at her first UPA Championships in Sarasota. Ultimate quickly became a true passion and Alyson's career in the sport became extensive – as a player, as a captain and as a coach.
Building experience with Toronto's top touring team, Urge, in 2002 and Ottawa's top touring team, Stella, in 2003 she then went on to become a founding leader for Toronto team Lotus in 2004. Lotus won the National Championships in Vancouver in its' inaugural year. In 2005 Alyson was a part of creating Capitals (an all-star Ontario women's team), with a goal of competing for the top spot at the UPA Championships. She was an integral leader of Capitals in 2007 when it first became a full summer/fall season team and then played an essential role on the team when it reached its' goal of making the finals at UPAs in 2010. With Alyson leading the way, Capitals won the Canadian Ultimate Championships in 2011 and earned the right to represent Canada at the World Championships in 2012, where they won a Bronze medal.
Over the course of her 13-year Ultimate career Alyson competed at eight Canadian Nationals; winning Gold four times, Silver three times and MVP twice. She competed at two World Club Championships in 2002 and 2010 and three World Championships in 2004, 2008, and 2012 (winning a Gold and two Bronze). In 2009 Alyson was selected as the Canadian Female Athlete of the Year and was also selected to compete on the Canadian World Games team. In the US scene, Alyson competed at seven UPA Championships/US Nationals winning a Silver in 2010 and Bronzes in 2008 & 2009. Throughout her touring career she has always played on various TUC league teams, winning the winter indoor championships a number of times and for the past eight years her outdoor team is Redi which has won the Wednesday league championships five times.
Alyson played a crucial leadership and coaching role in the development of Toronto and Ontario women's ultimate. She helped to advance the competitive women's ultimate in Toronto and was always a dedicated teacher and an inspiring leader. She continuously led by example, pushed for the best from herself and her teammates and did her best to motivate others on the field, off the field and in the huddle (she was well known for her epic speeches that could turn a team around). She enjoyed watching others learn, grow and succeed along the way and loved to share all the knowledge she had obtained in the many years of ultimate from her coaches and peers.
Alyson Walker has been a gift to Ultimate. Inspiring those around her to work hard, never give up, learn from both wins and losses and play great intense ultimate without losing integrity or the simple joy of the game. All the while with a huge trade-mark grin plastered across her face.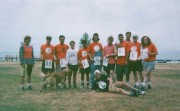 It was the cradle of Frisbee® sports in Toronto, a grassy space next to the boardwalk west of the tennis courts, down in the Beaches neighbourhood. It was there that TUC originated as a group of people who were introduced to ultimate by Frisbee legend and Beaches resident, Ken Westerfield. An overwhelming number of people in the group also lived in the Beaches, and hence they were the consistent regulars every week. It was on summer Wednesday nights that the group continued to grow in size, splitting into opposing sides based on who showed up. Because the Beaches was disc sports mecca at the time, people came from all over the city to play, and it wasn't long before there were so many people that two games were played one after another to accommodate everyone. By virtue of geography and familiarity, the players who lived in the Beaches usually played as one side against others who came there. The genesis moment came when there were so many people that the first four teams of the Toronto Ultimate League were created, beginning with the formal amalgamation of the Beaches team, and others who had been playing with the Beaches group branching off to form three other teams based on location within the city: Downtown/Centre Island, Etobicoke, and North Toronto.
That original Beaches team played with its name from its inception in 1980 through to the mid-1990's, when then one of the original team members, who still played on the team, opened a hip sandwich eatery called O'Boy. Brian McElwain (multiple Canadian and World Freestyle and disc golf champion) offered to sponsor the Beaches team, and so it changed its name to O'Boy until the end of the 1998 league year. Following that year, a group of players whose team had folded (Synergy) joined Beaches/O'Boy, and also brought along a new sponsor, a hamburger joint called SuperBurgrrr. And so, they took on that name for a short period until realizing that having played together so long, they felt the sense of being family and so they changed to its final name, Hot Cousin. That crew from 1998 continues on to this day, playing with a majority of the same teammates, including members from the very first original Beaches team, and ones from the O'Boy, and from the SuperBurgrrr nomenclature, and always on Wednesday night competitive. No matter what they call themselves, this team has been a part of the foundation of this league from its very inception over 30 years ago and continues to play at the highest level.
Many key names in ultimate and other disc sports played for the Beaches franchise, the list is in the hundreds after 35 years. Whether as world-class stars in their own rights at the men's and women's Open level, builders of TUC serving on committees and administration for hours uncountable, mentor coaches who taught the sport to so many who came into TUC, supporters who worked to legitimize and stake a place for TUC with the city's Park and Recreation, promoters who introduced corporate sponsorship to raise working funds, ambassadors who stewarded Spirit of the Game in the crucial formative growth years of ultimate… the total contributions of all those who have played as members of this embryonic originating Toronto Ultimate team, as both an entity and a collective deserve to be honoured with a place in the TUC Hall of Fame.