A diagram consolidating all of these details is at the bottom of this article.
The history of all touring in Toronto really begins with Darkside. Formed in 1986, they attended a number of tournaments in the US in preparation for the first ever Canadian Ultimate Championships (CUC aka Nationals), to be held in 1987. Jim Lim recalls:
"We didn't have shirts until the day before Nationals. Dante Anderson's grandmother made the shirts for us, and we spray painted the team name and did our own modifications to give it some kind of look.

"We won the title with a yet-to-be-broken record 3 hour 50 minute game [ed: games were to 21 points until the 10th edition rules], in hurricane conditions with a period of torrential rainfall, trading points with Calgary until the end. I am pretty certain I remember Ken Westerfield catching the final point to win the championship."
Darkside went to the finals again in 1988, coming up just short. 1989 would be a rebuilding year, and the name changed to Zero Tolerance. Zero Tolerance finished 4th in 1989, but dead last in 1990. The roster would be rebuilt again into Toronto Toronto for 1991, and another silver medal was won. In 1992, the name was officially T.O.T.O., but unofficially it was Surrender Dorothy. For 1993, they became Orange Crush, then back to Darkside in 1994 and PAM! in 1995, when they won bronze (actually, it seems that the PAM! name started part way through the 1994 season). Through all these names, there was always at least a core of the roster that remained constant from year to year.
Starting in 1992, responding to increased demand, these teams would often carry a roster of up to 40 players, divided into A and B squads for each tournament based on recent individual play.
In the fall of 1993, a group of guys from the league teams Overkill and Flatliners went to a tournament in Buffalo. They must have enjoyed the experience, as they ran as Big Aerial Dynamite (BAD) in 1994 and 1995. Geoff Simonett recalls:
"In the '95 nationals in Calgary there was an A and a B division. BAD was placed in the B division and won all our games but lost the crossover game, the only game that could put us into the A division. So we stayed in the B division and battled our way to the B final. Before we knew it, the score was 13-5 in favour of Winnipeg in a game to 15.

"Somehow we found the inspiration to take the game to a new level and slowly started to battle back, one point at a time, with the most spectacular string of plays including several full layout catches and one Greatest for a point. I don't think we imagined winning the game but were very focused on winning each point as the disc was put in play. Time became a factor, and the game was hard capped at 14. We managed to tie it up and get the last point to win the B final 14-13. So, after only losing one game in the whole tournament we still only placed 9th but we capped it off with the best comeback I have been a part of in any sport."
BAD continued in 1996, though they lost a couple of players who would go on to make a significant impact in the Toronto touring scene, and maybe this led in some part to the team disbanding after that year. Geoff was drawn to PAM!, who ran a campaign that year to build a very strong team, resulting in a silver medal (losing to Furious George in the finals after beating them in pool play).
But there was perhaps a defection that played a more significant role in defining Toronto's history: Harry Burkman decided to form his own team, naming it Too Bad, and forming the roster by blending up-and-coming newcomers to the game (many of whom got their first touring experience with Too Bad and would go on to have distinguished careers with other Open or Mixed teams) with recruits from Harry's league team, The Big Kahunas.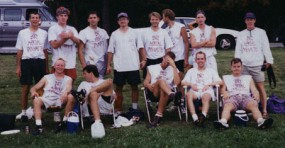 Too Bad has been a perennial contender since then (qualifying for Nationals every year from 1996 to 2009 and also attending the World Ultimate Club Championships (WUCC) in 1997, 1999, 2002 and 2006), and along the way Harry has perhaps introduced more people to the Open touring scene than any other individual in Toronto.
TUC had grown fairly slowly from 8 teams in 1987 to 28 in 1994, but jumped to 64 in 1996, 122 in 1999 and 208 by 2001. It was only natural that with this massive influx of players picking up the game, there would also be an increase in the number of people interested in touring, and sure enough, the mid-1990s saw the beginning of a years-long explosion in popularity of Open touring in Toronto, an explosion mirrored in Women's touring just a few years later.
In 1994, a group from the league team Vertical Reality added a few others to form Dead Baby Seals, as a way to get more game time and improve their game. Dead Baby Seals didn't practice or attend as many tournaments as other teams, but they typically went to 2-4 tournaments a year until about 2002, including Nationals in 1996.
In 1995, Beer Me joined the scene. For the first time, Toronto had four Open touring teams, and there have been at least four teams operating every year since. In 1996, the competition started to get more serious. Joe Aziz recalls:
"1996 was the first year where cuts had to be made for the men's touring team. Prior to that, the team basically consisted of those who were willing to make most practices and tourneys (and who gravitated to playing more ultimate and were good enough). There were some significant personalities that were cut from the 1996 team and, as a result, new teams were formed that year (Beer Me) [ed: Pie Plates indicate that Beer Me first existed in 1995] and in the years to follow."
1998 ushered in a period of upheaval in the Open touring scene, started off when PAM! broke apart into Y.E.S. and Rebellion. While there were efforts to have the teams work together, this didn't pan out. Y.E.S. went their way, while the Rebellion group got together with players from Beer Me and held tryouts, forming Rebellion and Love Gravy. (This process was the first glimmer of what would eventually become the club system in use today, though it's somewhat less clear which teams were affiliated with which at this time.)
In 1999, efforts to link Y.E.S. and Rebellion clicked, with Y.E.S. being the "A" team and Rebellion as the "B", while Love Gravy also continued in the mix and a new team, Hand Solo, was added. However, a number of players were not interested in following this structure, and formed Nerve. Yet another group was busy forming Redi Knights. Robin Coster recalls:
"There were plenty of open men interested in touring that year and we held tryouts with timed sprints, etc., picked the Rebellion and Love Gravy teams, and formed Hand Solo for the remaining players who were not on a team. These teams all competed at Nationals in Ottawa that year and I recall the heart breaking loss by Love Gravy in a crossover with Redi where Chuck Cunningham (freshly defected from Love Gravy) caught the winning point for Redi to bump us out of the top 8."
The same basic structure held in place for the start of 2000, though more players defected from Rebellion and Love Gravy to Nerve. In the end neither Rebellion nor Love Gravy had enough players to get to Nationals, so they merged and Rebellion was no more.
In 2001, Too Bad, Y.E.S., Love Gravy, Nerve and Redi Knights all carried on with business as usual, but this proved to be the calm in the eye of the storm. For the 2002 season, Love Gravy got new leadership and rebranded as Joystik, and Pong was formed. However, these events pale in comparison to what might, at the time, have been seen as just another shift in the rapid changes to the landscape that had started in 1998.
In 2002, members of Y.E.S. and Nerve got together, also bringing in some key players from Redi Knights and Ottawa-based Wax, to form a team called GOAT. This has, in retrospect, turned out to be a defining moment in Toronto touring history. Pooling top talents from diverse teams doesn't always work out, but GOAT brought home the gold medal in their first year of existence, repeating as champions in 2006, and adding silvers in 2003, 2005 and 2007 and a bronze in 2004, while 2010 gold medal winners Moondoggies sported a roster consisting primarily of GOAT regulars.
In 2004, Pong disbanded, but a core of these players formed Roy, while another group formed a new team called Grand Trunk. In 2005, GOAT made the move from being a Toronto/Ottawa "hybrid" team to solely Toronto. At the same time, Grand Trunk and Roy were folded into what has become a very stable and productive club system, with combined tryouts and top players graduating upwards through the system from year to year.
Since its inception in 2005, the Open system in Toronto has consisted of GOAT, Grand Trunk and Roy sharing resources, while Too Bad steadily provides an alternative for those that don't find a good fit in the club system.
Summary
With only a few blips, we can draw a straight line of evolution 24 years in the making, from the earliest days of Darkside (winners of the first ever Nationals) through to GOAT (and their spin-off, Moondoggies, winners in 2010), tallying four gold, six silver and three bronze, and burning through ten team names along the way. We also witness the amazing vision and determination of Harry Burkman, the only captain that Too Bad has known in 15 years of existence, and look forward to more success for Toronto teams on the national and international stage.
These histories were pieced together in late 2010 from various sources for TUC's 30th Anniversary, and almost certainly include minor inaccuracies or one-sided views. Please send any suggestions for improvements, additions or updates to webmaster@tuc.org. Click the team history diagram below for the full-size version.