A diagram consolidating all of these details is at the bottom of this article.
The story begins with See Jane Run. Apart from having arguably the best name ever, they dominated their division to an extent that nobody else ever has.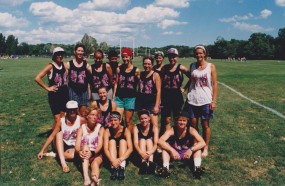 Captain Janet Wilson took a Toronto women's team to Worlds in England in 1986, where they finished 15th out of 15 teams. See Jane Run evolved out of this team, and improved quickly. Although the Ultimate Canada website says that the inaugural year for the Women's division at the Canadian Ultimate Championships (CUC aka Nationals) was 1989, many people recall See Jane Run playing at Nationals before this, and it seems that perhaps there was an earlier, unofficial women's tournament co-located with Nationals. For example, the late 1992 Pie Plate states that See Jane Run had just won their 6th Nationals in a row, without losing a game in any of those appearances. No other team has ever won more than four consecutive championships, in any division. Along the way, they built up a mystique that survives to this day. Monica Kerr-Coster recalls:
"They were dominant on the Women's touring scene for a long time. They won Nationals many times in a row (can't remember how many - I think 7 but that is just a guess). I once heard that they went to Nationals with only 7 players and still won."
(Sylvia Lamoureux confirms that the 7 woman roster won Nationals in 1990, and an early Pie Plate adds that See Jane Run had only 11 on their roster at the 1992 Nationals.) Jim Lim adds:
"In that era of Ultimate, See Jane Run was as dominant as Lotus is today. They handily won most of the tournaments they played. It wasn't until the last year of their existence that Vancouver challenged them with a team called Jade Gaitz. The team was by far the most athletic (they did lay out back then) and had a strong huck game because many of them were great throwers."
See Jane Run also went to Worlds many times, finishing 7th in 1988, 5th in 1990, 11th in 1991 and 23rd in 1993.
See Jane Run ended their run after Worlds in 1993 (they did not attend Nationals that year), but another option had started up. Bodacious TaTas came together in 1992 and dissolved after only one season, but a group from that team put together a new team in 1993, called Layout Sisters. Gillian Scarfe, one of the top players from See Jane Run, was now playing in the Open division, but watched Layout Sisters at CUC in 1994 (where they won bronze), decided she liked what she saw, and joined them in 1995. With Gillian's leadership and experience, Layout Sisters captured the silver.
For 1996, they renamed themselves Game Face, and again brought home silver. After 1997, in which Game Face finished 4th at Nationals and 14th at Worlds, Gillian and a number of others retired, but a core of veterans stuck with it and began a rebuilding process, training up a crop of new players, many of whom would go on to become household names, at least among households that know Ultimate. The late 1990s were lean years as far as the medal count goes, but they laid a solid foundation for future development. In 2000, they again renamed themselves, now going by Urge. Urge won the bronze in 2000 and silvers in 2001 and 2002.
The years from 1995-2001 were a period of tremendous growth in league teams, going from 28 in 1994 to 208 in 2001, an increase of almost 700%. Also in 1995, TUC premiered a division for teams playing with a 4/3 gender ratio instead of the "traditional" 5/2, and in 1997 all league games went to 4/3. It is perhaps not surprising that this period saw the addition of women's teams to the scene, formed to help introduce newer players to tournament play and develop their skills. Snatch came and went in 1996. Boom Chicka Boom formed in 1997. Tracy D'Cruz says "The name came to be because we thought it was a good one for rhyming with, since cheers were a part of the game." As was the trend at the time, they renamed to BUST in 1999. Zephyr formed in 2000, then merged with BUST in 2001 to form Team Betty (or just Betty). Betty would stay together until 2003.
The first years of the new millennium were a busy time in Women's Ultimate in Toronto. In addition to Betty, there were Dirty Girls and Disco Lemonade in 2001, and Ruby Cruz and BOXX formed in 2002 (also bringing in players from the former Zephyr). This was very much like the explosion of teams that happened in Open in 1998 and 1999 and, like that explosion, it would lead to another defining moment in Toronto touring history.
2004, 2006, 2007: Banner Years
In 2004, Lotus won the Women's gold medal, while Bombing Madd Fatties and Bodhi took silver and bronze respectively in Mixed and GOAT tied for the Open bronze.
In addition to GOAT's gold medal performance in 2006, Grand Trunk scored bronze, while Lotus again took gold in Women's and Bombing Madd Fatties captured the Mixed bronze.
In 2007, right here in Toronto, Tombstone led the way with the Masters gold, while GOAT, Capitals (Women's) and DIRT (Juniors) all landed silvers. With four medals each year, 2004, 2006 and 2007 are Toronto's most productive medal hauls ever.
2003 was a qualifying year for the World Ultimate and Guts Championships, and everyone knew that Vancouver's Prime would be a strong contender. Monica Kerr-Coster, Christian and Sheri Madigan, and Alyson Walker were asked by Stella (based in Ottawa) to give them the extra depth they needed to compete. These four felt that, with the proliferation of teams splitting the talent, Toronto didn't have the depth that year to make a serious run. They decided to take this opportunity, knowing also that they could learn from it and bring that knowledge back to Toronto. Stella came up just short, losing to Prime in the finals.
Stella was the first time Monica and Alyson had played together, and afterwards Monica convinced Alyson to form a new team together. They recruited much of the Urge roster as well as a few of the top players from Ruby Cruz, including captains Heather Killian and Karen Hood, though much of Ruby stuck together for one final season. They called their new team Lotus.
Just like GOAT before them, Lotus won the gold in their first year together, 2004, with Heather earning MVP honours, and added gold in 2006 and 2009, silver in 2005, and bronze in 2010. Considering that the overall level of competition across the country has increased tremendously since the days of See Jane Run, some might consider Lotus' record to be the more impressive.
Lotus and Stella were rivals, but friendly rivals, and had previously joined forces on a team called Capitals which went to the UPA Championships (held every fall in the United States). 2007 was another qualifying year for Worlds, and again people in the east knew that Vancouver would be sending a strong team, this time Traffic. In an echo of the 2003 bolstering of Stella's roster, Lotus and Stella decided to combine for the entire summer season, again coming together under the Capitals name. And, as in 2003, the result came up just short, losing in the finals.
In 2003, the leaders of Urge had started a feeder team called Surge. This experiment was abandoned in 2004, as the leaders of the new Lotus felt they had their hands full organizing one new team, but reinstated with the introduction of Lily in 2006, which also filled a bit of a void left behind after Betty, Ruby Cruz and BOXX folded. Lily disappeared in 2007, replaced by Gold Diggers run as the "B" team to Capitals, but reappeared along with the return of Lotus in 2008, and has been graduating players to the mother team ever since.
As we know from the Open experience of 1998-2002, you can't go from four teams down to two. There will always be people left out in that process who are wanting to play, even if they have to form their own teams to do so. Eve ran from 2005 to 2007, while Feisty formed in 2007, took 2008 off, but returned to the scene for 2009 and 2010.
Snatch, Viagara Falls and XX
In 1996, a team of veteran women got together just for Nationals, going by the name Snatch. The name was resurrected in 2006, again just for Nationals. Joanne Gallagher says "Of note was the fact that it may have been the first team at Nationals where a mother/daughter played on the same team." Erica Tucker, 15 at the time, played with her mother Joanne on Snatch that summer because she was unable to commit to regular practices with the Juniors' team DIRT, and didn't feel it was fair for them to reserve a spot for her.
A similar team was put together for 1998 Nationals, called Viagara Falls, and XX was formed for Toronto Nationals in 2007, taking advantage of an empty spot resulting from expanded division sizes that year. XX was an opportunity for a number of women who don't normally tour to get a taste of how the women's game differs from the co-ed they were used to.
Summary
The timeline of Women's touring in Toronto is simpler than that of Open or Mixed, and at the same time more successful, if we use medal count as the yardstick. Between See Jane Run and the almost continuous line of succession from Layout Sisters to Lotus, Toronto-based Women's teams have brought home nine gold, six silver and three bronze medals, for an amazing total of 18 medals in 24 years.
These histories were pieced together in late 2010 from various sources for TUC's 30th Anniversary, and almost certainly include minor inaccuracies or one-sided views. Please send any suggestions for improvements, additions or updates to webmaster@tuc.org. Click the team history diagram below for the full-size version.