Photo courtesy Ian Brooks
The 2013 Summer experience was a great weekend of beautiful Toronto weather. With 16 teams split into two divisions of competitive and intermediate, every team got their share of tight matchups and rivalries.
Saturday's competitive pool play saw some strong matchups and a clear winner from each pool emerged in Ronin and NoBS, the eventual finalists. Ronin managed to upset Zen in their pool 13-10 to take the easier road to the finals. NoBS had a close shave in their pool against Hammer Hawks 13-11 but weren't challenged again until they reached the finals on Sunday. Ronin continued their undefeated streak all the way through to the finals, where they upset NoBS 15-12. Congratulations to Ronin, who are repeat champions from 2012!
Full game footage of the Ronin vs NoBS Comp final can be veiwed here.
Competitive Champions: Ronin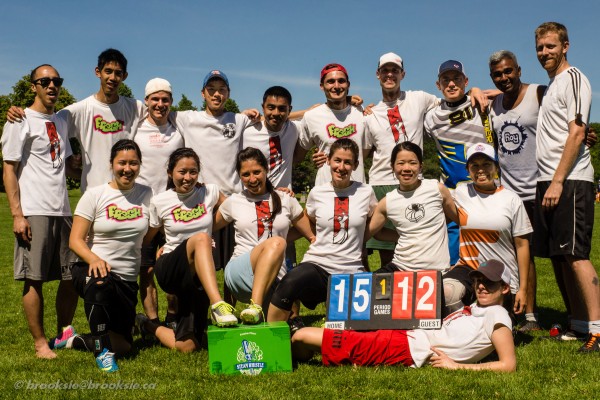 Photo courtesy Ian Brooks
Competitive Division Final Placings
1st - Ronin
2nd - NoBS
3rd - Zen
4th - BULLDOGS
5th - Johnny B. Goode
6th - Hubris
7th - Hammer Hawks
8th - Quick and Dirty
In the Intermediate Division, it seems no one could rival the super pick up team, ANBU, who blitzed their pool. ANBU's first big game came in the semi's where they played against a tough Princess Layout from the other pool, winning 14-10.
In the opposing pool, The Horny Dragons tied for top seed coming into playoffs with Princess Layout but took the head to head win. The Horny Dragons would fall to Down To Huck in the semi's and lose their rematch for 3rd place against Princess Layout.
ANBU continued their strong play in the finals and beat Down To Huck 15-8.
Intermediate Champions: ANBU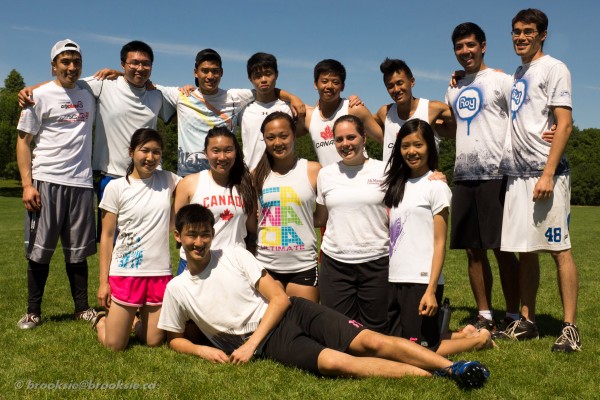 Photo courtesy Ian Brooks
Intermediate Division Final Placings
1st - ANBU
2nd - Down To Huck
3rd - Princess Layout
4th - Horny Dragons
5th - MMV
6th - Hat Team
7th/8th - Hol' Dat/The Harford Cyclones
Congratulations to The Horny Dragons and The Harford Cyclones, who tied for first place in Spirit out all 16 teams. The WFDF Spirit Scoring System was used for the 2013 Summer Experience tournament.
---

The warm days are returning, the ice has melted, the green is back, the birds are chirping again and it smells like summer. What better way to kick off your 2013 summer experience, than with the TUC Summer Experience?! We are starting up the warm season with our fifth annual Summer Experience, our first two day outdoor tournament for 2013.
This year, the Summer Experience grows as we see extra field space at Sunnybrook and room for 24 teams, across three divisions. Sign up a new team, your league team, your non-TUC team, or as an individual ASAP because this event is going to be big.
Each team will get to play a minimum of three games each day. There will be some food (TBA) provided both days, prizes for MVPs and the winning teams.
Dates: June 8 & 9
Times: 9AM - 5PM
Location: Sunnybrook Park
Format: 7-on-7 co-ed
Level of Play:  Recreational - Intermediate - Competitive
Cost: $275 for TUC teams, $350 for Non-TUC Teams. $25 for TUC individuals, $35 for Non-TUC individuals
Registration: TUC Teams, Non-TUC Teams, TUC Individuals, Non-TUC Individuals. Registration closes midnight, June 4th.
Contact: events@tuc.org
Brought to you by