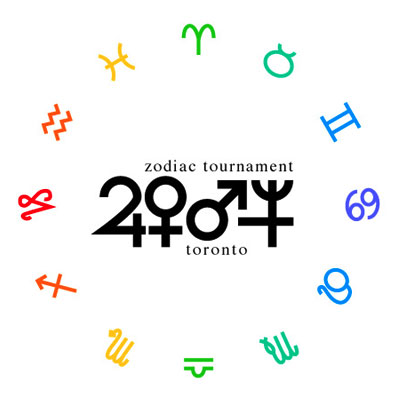 Championship game synopsis: Capricorn vs Libra
After being down 8-1 to Capricorn, Libra went on to score the next 8 points to take the half 9-8. Libra also scored the first point after the half. (After this, I'm not sure what happened - a TD's work is never done and I started cleaning up ;-). The final score was Libra 17, Capricorn 15. A very entertaining final!
Sun Pool games on Sunday (upper tier)
Game 1
Libra 17
Aquarius 11
 
Capricorn 17
Gemini 15
 
Cancer 17
Scorpio 11
 
Pisces 17
Aries 10
Game 2
Libra 14
Cancer 13
 
Capricorn 17
Aries 15
 
Aquarius 17
Gemini 9
 
Scorpio 14
Aries 11
Game 3
Libra 17
Capricorn 15
 
Cancer 11
Pisces 8
 
Aquarius 9
Aries 1
 
Scorpio 7
Gemini 6
Moon Pool games on Sunday (lower tier)
Game 1
Taurus 17
Leo 10
 
Sagittarius
Virgo
Game 2
Taurus 17
Sagittarius 12
 
Leo
Virgo
Game 3
Taurus 9
Virgo 4
 
Sagittarius
Leo
Final standings
Libra (pure)
Capricorn
Cancer
Pisces
tie: Aquarius (pure)/Scorpio (pure)
 
tie: Gemini/Aries
 
Taurus (pure)
tie: Virgo (pure)/Sagittarius
 
Leo (pure)
Pictures
Dion (Libra): Some pictures were taken by my wife's camera and they can be found here
Cheers
A couple of Taurus Sunday slag cheers courtesy of Warren Tang
Taurus v. Virgo
(tune of Ave Maria)
Virgo the virgin
You really wanted to win
Virgo the flowered
You met the bull and were devoured
It's not that your throws were ineffective
Your guys, while attractive, were slightly defective
Your girls, who normally never fade
Thought too much of how to get laid.
Virgo the lonely,
You'll find a love eventually.
Taurus v. Leo
(tune of Eleanor Rigby, Beatles)
We look at all the Frisbee people
We see that it's the hairy leos
Leo the lion
Roaring about, but lays out where the ground's really rough Reality's tough
Leo the lion
Showing their pride, big long strides, puts the disc in the air But who is that there?
Taurus, Taurus, Taurus
Where did you all come from?
You wish you could ignore us
The bulls have all the fun
Aquarius to Pisces
(tune of Copa Cabana)
You are the Pisces,
you played so nicely,
Your hucks were thrills you ate our swill and you really did the drill
We're water bearers
and also swear-ers
Playing the Pisces is all very nice but in the end we,
We'd rather win...
Aquarius to Libra (Sunday slagging)
(Our finest)
It took you three years
to finally beat us.
Your team is SO NOT HOT

We shagged your mothers,
Significant others
And they're NOT SO HOT

[Chanting]
You were at the party
NOT NOT NOT
We were at the party
HOT HOT HOT

We're HOT
You're NOT
We're HOT
You're NOT

[Singing]
We will be drinking
While you're still stinking
That was NOT SO HOT

While you are losing
We will be boozing
We are HOT HOT HOT!

[o lay o lay]
You're lame you're lame, you're f***ing lame,
You're lame you're lame, you're f***ing lame...
Teams
Name
Gender
Date Registered
Actual Sign
Aquarius
Judy
Lombard-Newell
Female
24/08/2004
Aquarius
Lauren
Lieberman
Female
25/08/2004
Aquarius
Cynthia
Dell
Female
25/08/2004
Aquarius
Rhiannon
Casale
Female
25/08/2004
Aquarius
Diane
Pendlebury
Female
26/08/2004
Aquarius
Jen
Miller
Female
27/08/2004
Aquarius
Lisa
Mazurkewich
Female
27/08/2004
Aquarius
Mehmet
Karman
Male
25/08/2004
Aquarius
Kevin
Chong
Male
26/08/2004
Aquarius
Stephane
Levac
Male
26/08/2004
Aquarius
Chris
Chapman
Male
26/08/2004
Aquarius
Bill
Boyer
Male
27/08/2004
Aquarius
Mike
Shaver
Male
27/08/2004
Aquarius
Galen
Midwinter
Male
28/08/2004
Aquarius
Kirk
Brown
Male
31/08/2004
Aquarius
Jason
Pedlar
Male
08/09/2004
Aquarius
Aries
Erin
Simmons
Female
26/08/2004
Aries
Erin
Kennedy
Female
26/08/2004
Aries
Julie
Kramer
Female
26/08/2004
Aries
Bonnie
Lee
Female
30/08/2004
Aries
Annabelle
Leung
Female
31/08/2004
Aries
James
Guentner
Male
24/08/2004
Aries
Mathew
Wilson
Male
26/08/2004
Aries
Owen
Clarke
Male
26/08/2004
Aries
Scott
Syme
Male
26/08/2004
Aries
Nathan
Kenny
Male
30/08/2004
Aries
Mark
Williams
Male
30/08/2004
Aries
Aaron
Pollet
Male
30/08/2004
Aries
Sunjay
Nath
Male
31/08/2004
Aries
Jordan
Winestock
Male
18/09/2004
Aquarius
Cancer
Lisa
Reyes
Female
25/08/2004
Cancer
Susan
Tsin
Female
03/09/2004
Cancer
Jill
Boles
Female
03/09/2004
Gemini
Shiovean
Woods
Female
23/09/2004
Taurus
Nancy
Shea
Female
12/09/2004
Leo
Dave
Lapensee
Male
26/08/2004
Cancer
Mark
Wong
Male
26/08/2004
Cancer
Will
Mercer
Male
26/08/2004
Cancer
John
Hurlbut
Male
26/08/2004
Cancer
Tony
Charbonneau
Male
27/08/2004
Cancer
Mark
Schindler
Male
27/08/2004
Cancer
Wes
Rupel
Male
28/08/2004
Cancer
Jenning
Seto
Male
30/08/2004
Cancer
Brant
Carson
Male
30/08/2004
Cancer
Capricorn
Heather
Rayner
Female
26/08/2004
Capricorn
Linda
Valenta
Female
08/09/2004
Capricorn
Mary
Fong
Female
08/09/2004
Capricorn
Kaitlyn
Lovatt
Female
10/09/2004
Capricorn
Grace
Vaccarelli
Female
23/09/2004
Capricorn
Terhi
Anttila
Female
23/09/2004
Capricorn
Michaela
McKeown
Female
31/08/2004
Scorpio
Mark
Landry
Male
30/08/2004
Capricorn
Mark
McNally
Male
31/08/2004
Capricorn
Ted
Hepner
Male
03/09/2004
Capricorn
Roger
Horvath
Male
08/09/2004
Capricorn
Robert
Ng
Male
20/09/2004
Capricorn
Dan
Norman
Male
31/08/2004
Virgo
Sheldon
Tenenbaum
Male
17/09/2004
Libra
Gerry
Marsico
Male
12/09/2004
Pisces
Clark
McKeown
Male
07/09/2004
Cancer
Gemini
Lisa
Dowling
Female
26/08/2004
Gemini
Leya
Duigu
Female
26/08/2004
Gemini
Jane
Logan
Female
26/08/2004
Gemini
Barb
Elliott
Female
27/08/2004
Gemini
Shauna
Taylor
Female
30/08/2004
Gemini
Caroline
Choi
Female
31/08/2004
Gemini
Debbi
Ragogna
Female
01/09/2004
Gemini
Cameron
Jones
Male
24/08/2004
Gemini
Justin
Katz
Male
24/08/2004
Gemini
Robert
Botman
Male
26/08/2004
Gemini
Aaron
Dauphinee
Male
26/08/2004
Gemini
John
Newell
Male
28/08/2004
Gemini
Tim
Cowan
Male
29/08/2004
Gemini
David
Hadaller
Male
05/09/2004
Gemini
Kaoru
Kumabe
Male
14/09/2004
Taurus
Andrew
Hunter
Male
30/08/2004
Pisces
Leo
Tanya
Beiswenger
Female
24/08/2004
Leo
Lynne
Boucher
Female
24/08/2004
Leo
Christie
Hall
Female
26/08/2004
Leo
Heather
Levchuk
Female
26/08/2004
Leo
Andrea
Allen
Female
26/08/2004
Leo
Hilda
AhChong
Female
31/08/2004
Leo
Kristine
Heckman
Female
18/09/2004
Leo
Andrew
Milne
Male
26/08/2004
Leo
Troy
Neave
Male
26/08/2004
Leo
Rahil
Suleman
Male
27/08/2004
Leo
Gene
Rogers
Male
30/08/2004
Leo
Doug
Coote
Male
30/08/2004
Leo
Eli
Fidler
Male
30/08/2004
Leo
Christopher
Day
Male
30/08/2004
Leo
Adrian
Kao
Male
31/08/2004
Leo
Libra
Dooley
Maring
Female
24/08/2004
Libra
Tracy
Smith
Female
25/08/2004
Libra
Tracy
Docheff
Female
26/08/2004
Libra
Melodie
Lumague
Female
26/08/2004
Libra
Michelle
Downie
Female
27/08/2004
Libra
Catherine
Lee
Female
28/08/2004
Libra
Jen
Hawkins
Female
31/08/2004
Libra
Timothy
Grumley
Male
24/08/2004
Libra
James
Howard
Male
24/08/2004
Libra
Johs
Copp
Male
24/08/2004
Libra
Christian
Hajok
Male
26/08/2004
Libra
Edwin
Wong
Male
26/08/2004
Libra
Dan
Vranesic
Male
26/08/2004
Libra
Robert
Ho
Male
26/08/2004
Libra
Dion
Lew
Male
26/08/2004
Libra
Mike
Lane
Male
26/08/2004
Libra
Pisces
Tracy
Peeters
Female
24/08/2004
Pisces
Nicole
Hunter
Female
26/08/2004
Pisces
Yoan
Rizelia
Female
26/08/2004
Pisces
Heidi
Clark
Female
30/08/2004
Pisces
Stuart
Zak
Male
24/08/2004
Pisces
Doug
Singer
Male
24/08/2004
Pisces
Jeremy
Wilson
Male
24/08/2004
Pisces
Takanori
Furuta
Male
25/08/2004
Pisces
Kelly
Rodger
Male
26/08/2004
Pisces
Joshua
Bates
Male
26/08/2004
Pisces
Greg
Schmidt
Male
26/08/2004
Pisces
Mathew
Harder
Male
26/08/2004
Pisces
Kirk
Kelsey
Male
28/08/2004
Pisces
Sagittarius
Lisa
Belanger
Female
26/08/2004
Sagittarius
Amber
Pollett
Female
26/08/2004
Sagittarius
Ellen
Stormer
Female
28/08/2004
Sagittarius
Holly
Witteman
Female
30/08/2004
Sagittarius
Karen
Clark
Female
31/08/2004
Sagittarius
Stephanie
Kaman
Female
01/09/2004
Scorpio
William
Gann
Male
24/08/2004
Sagittarius
Jon
Rayner
Male
26/08/2004
Sagittarius
Robert
Scheifele
Male
26/08/2004
Sagittarius
David
Ng
Male
26/08/2004
Sagittarius
Vince
Chui
Male
30/08/2004
Sagittarius
Bill
Hendrickson
Male
01/09/2004
Sagittarius
Rob
Wendolowski
Male
06/09/2004
Sagittarius
Aron
Wallaker
Male
31/08/2004
Cancer
Alex
Peters
Male
26/08/2004
Libra
Scorpio
Helen
O'Sullivan
Female
26/08/2004
Scorpio
Cassandre
Beaton
Female
27/08/2004
Scorpio
Carissa
Ellis
Female
28/08/2004
Scorpio
Janelle
Bouchard
Female
29/08/2004
Scorpio
Irene
McGlashan
Female
31/08/2004
Scorpio
Carissa
Wong
Female
31/08/2004
Scorpio
Kaye
Weston
Female
03/09/2004
Scorpio
Arthur
Tateishi
Male
26/08/2004
Scorpio
Hilary
Leung
Male
26/08/2004
Scorpio
Scot
McFadyen
Male
26/08/2004
Scorpio
Lionel
Cole
Male
26/08/2004
Scorpio
Mike
Gardiner
Male
29/08/2004
Scorpio
Jon
Mound
Male
31/08/2004
Scorpio
Neil
Griffith
Male
06/09/2004
Scorpio
Jameson
Nicolazzo
Male
18/09/2004
Scorpio
Scott
O'Donnell
Male
20/09/2004
Scorpio
Taurus
Cheryl
Deboer
Female
26/08/2004
Taurus
Lisa
Breton
Female
26/08/2004
Taurus
Karen
Lew
Female
26/08/2004
Taurus
Christine
Tibor
Female
26/08/2004
Taurus
Andrea
Thompson
Female
27/08/2004
Taurus
Terra
Renton
Female
27/08/2004
Taurus
Trevis
Gigliotti
Male
26/08/2004
Taurus
John C
Harris
Male
26/08/2004
Taurus
Dan
Nephin
Male
26/08/2004
Taurus
Warren
Tang
Male
26/08/2004
Taurus
Larry
Yuan
Male
28/08/2004
Taurus
Peeter
Leis
Male
29/08/2004
Taurus
Rob
Fulford
Male
31/08/2004
Taurus
Sean
Kirby
Male
31/08/2004
Taurus
Mark
Radman
Male
31/08/2004
Taurus
Virgo
Monica
Brockmyre
Female
24/08/2004
Virgo
Susan
Older
Female
25/08/2004
Virgo
Colleen
DeVries
Female
26/08/2004
Virgo
Lisa
Di Diodato
Female
01/09/2004
Virgo
Allison
Hickey
Female
09/09/2004
Virgo
Dan
Bell
Male
24/08/2004
Virgo
Denis
Heng
Male
26/08/2004
Virgo
Dean
Brown
Male
27/08/2004
Virgo
Blue
McClellan
Male
28/08/2004
Virgo
Steve
Slater
Male
30/08/2004
Virgo
Kevin
Ng
Male
30/08/2004
Virgo
Eugene
Wong
Male
30/08/2004
Virgo
Marc
Pawelski
Male
31/08/2004
Virgo
Alan
Koop
Male
31/08/2004
Virgo