TUC's Spring Tune-up 4-on-4 Tournament was held on Saturday April 14th on the premier turf at Lamport Stadium. A new tournament format for our club was introduced at this event, being 4-on-4 style gameplay. 11 intermediate & competitive teams showed up to test out a very different style of ultimate, played in tight quarters, much different than the field in a standard TUC league. After a solid three hours of intense action it was Tony and Carmel (pictured below) edging out TBD in the finals. In the third place game PONY 2012 defeated Low Expectations.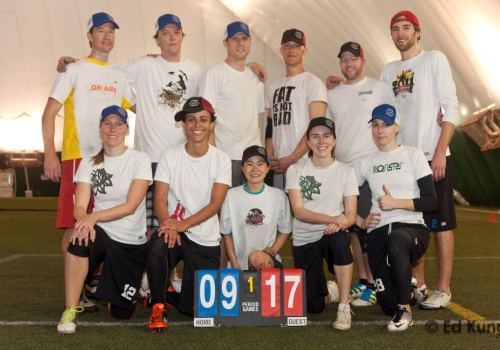 Courtesy Ed Kung
Check out the Spring 4-on-4 Tournament Schedule for a complete recap of all the games and scores.
Click on the Tournament Rules Link for a look at TUC's 4-on-4 specific rules.
Event Details
Dates: Saturday, April 14, 2012
Times: 3 Hours - 4pm to 7pm
Location: Lamport Stadium
Capacity: 12 team spots
Level of Play: Recommened for Intermediate/Competitive/Elite
Cost: $175 for all teams
Registration: Opens online March 8th, 2012
Rosters: 8-12 players recommended
Contact: events@tuc.org
Brought to you by