Eilte Division
After losing by 9 in their pool play round, The Tribe + Dwong was given an opportunity for revenge in the semi finals against Rippled, Lightly Salted. They took the opportunity and made good use of it by pulling the upset win 10-9 and moving onto the finals. Soup Can Fun held their seed through the other semi final to see The Tribe + Dwong in the final. In another upset, Tribe + Dwong ground out another universe point win, 14-13 to take the Elite division.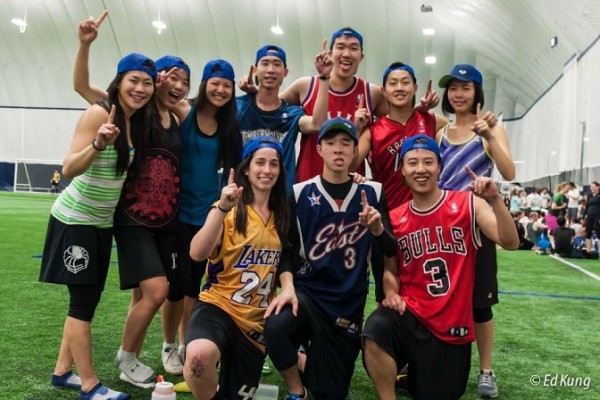 Courtesy Ed Kung
Tribe + Dwong (3)
Soup Can Fun (1)
4 Way (5)
Rippled, Lightly Salted (2)
FLJ (4)
The Human Fund (6)
Quick and Dirty (7)
Spring Quartet (8)
Competitive Division
Connect Four and BULLDOGS both had strong showings all tournament, making it to the finals undefeated. BULLDOGS had a couple of close wins in pool play and a 13-12 win over 4 Samurai. Connect Four were not properly challenged until they made to the semis and had a 8-7 double game point victory over the strong You Go Glen Coco.
Connect Four and BULLDOGS put on a tight final game for the competitive division with Connect Four emerging the victor, 12-11.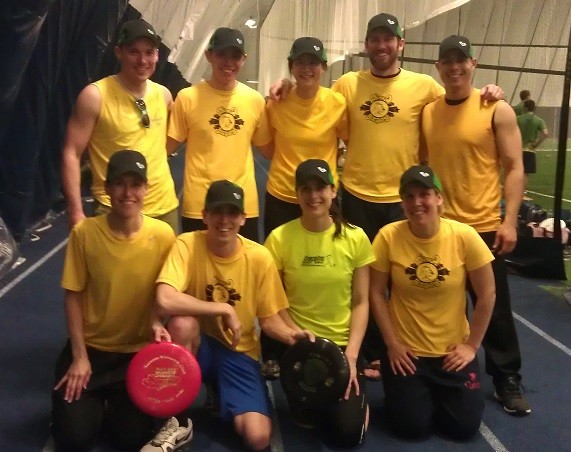 Connect Four (2)
BULLDOGS (5)
You Go Glen Coco (3)
4 Samurai (1)
The Hogtown Flatballers (6)
AYCE (7)
Fletcher Lynd (8)
Playing Up (4)
Intermediate/Recreational Division
Forest Whales had a very dominant path through to their finals win. They were the only team in the whole division to not lose a game. The only game that Inside Out lost in pool play was actually to Forest Whales, they otherwise had a the strongest +/- out of all the division. These two teams then had a rematch in the final that went down to the wire, finishing on double game point, like both the other divisions, 8-7 in favour of Forest Whales.
Congratulations to Floppy Disc, who won the tournament Spirit rankings. They were the only team out of all 26 teams to finish pool play with perfect spirit scores.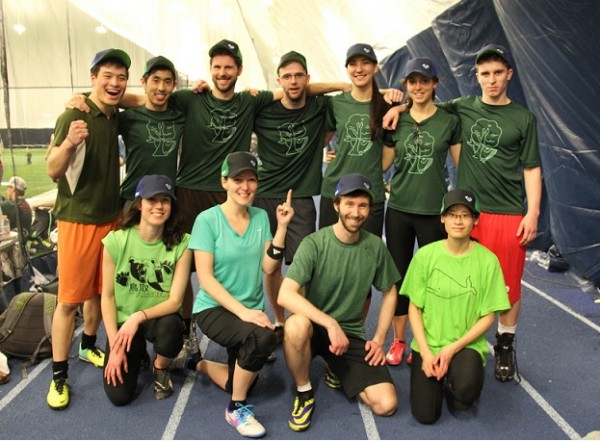 Forest Whales (3)
Inside Out (7)
Dream Team Frisbee (4)
Flying Saucers (9)
Floppy Disc (1) - Spirit Winners
Quick Wrists (6)
Cheers For 3 (5)
Deucicorns (2)
Red Delicious (10)
Gotta Catch Em All (8)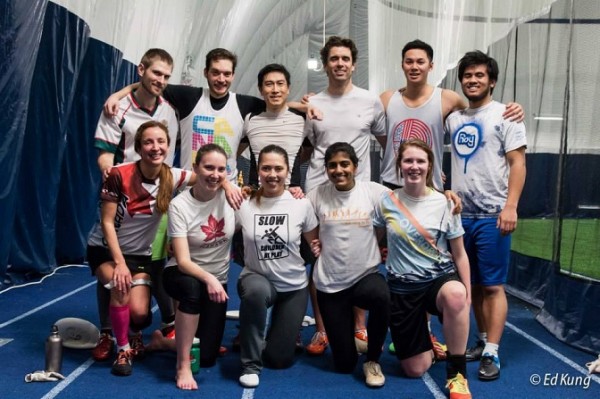 Spirit Winners: Floppy Disc
Courtesy Ed Kung
Event Details
Date: Saturday, April 12, 2014
Time: 4 Hours - 3pm to 7pm
Location: Monarch Park
Capacity: Maximum 26 teams (recommended 10-12 players per team)
Format: 4-on-4 Tournament Rules
Level of Play: Recommended for all levels
Cost: $225 per TUC team, $275 per Non-TUC team
Registration: TUC Teams, Non-TUC Teams, closes midnight on April 9th
Contact: events@tuc.org
The Spring 4-on-4 tournament returns to Monarch Park for 2014 with an increased time limit. The tournament this year will be 4 hours long on 9 separate mini fields, which will raise the amount of play time for everyone (tentatively a minimum of 5 x 25 minute games).
The tournament will be split into 3 divisions of Elite, Competitive and Intermediate/Recreational. The number of teams in each division will be determined after registration. To prevent excessive bye rounds, some teams may be moved to keep even numbers in the divisions. Whilst there is no guarantee that your team will be placed in your requested division, we will do our best to accommodate.

Courtesy Ed Kung
Brought to you by