If you have anything you'd like to see added, please contact webmaster@tuc.org.
Winter
Winter Indoor Monday Men's League Championship
Tier 1: Mandrew
Tier 2: O'Toole's
Winter Indoor Tuesday Co-ed League Championship
Winter Indoor Thursday Co-ed League Championship
Tier 1: Buck Naked (pictured below with their trophy and championship discs)

Tier 2: Norwood
Spring
BE ULTIMATE! City Clean-Up
Our "BE ULTIMATE!" community clean-up day, postponed due to poor weather, took place Saturday, April 29. Thanks to everyone who came out! Here is a picture of our fantastic clean-up crew:
Here are the results from ULW 2006:
1st Place: Bombing Madd Fatties
2nd Place: Guanxi
3rd Place: Mayhem
Spirit Winners: Warren Tang of MMV & Patti Newton of Harry Pooter
Skills Competition Winners:

Women

- Distance: Malissa Lundgren, Accuracy: Sandy McGill,

Men

- Distance: Christian Hajok, Accuracy: Manny Belliveau
A photo gallery from the event and a photo gallery from the finals is available courtesy of www.craigstephenphotography.com. We have posted a few selected pictures.
Summer
TUC Canada Day Party
Thanks to all who came out to the TUC Annual Canada Day Party on Thursday, June 29 and helped support Mark Radman & Allison Hickey. TUC donated $750 to the Sunnybrook Foundation Critical Care Unit in their names. 200 people attended the bash at Devil's Martini and enjoyed great food and beverages, dancing, trivia, and even some Battledisc!
Here are a few pictures from this great event, compliments of craigstephenphotography.com.
Once again the wrath of Mother Nature fell upon a TUC tournament, preventing us from completing our playoff games. But that didn't matter because we had a great time! Everyone was winner on the weekend; we got to enjoy competitive Ultimate at Sunnybrook Park, Sunday's yummy BBQ, free Xilarate Sports Power Fluid, free physio and sports rehab, on-site access to partners GAIA, Daredevil Discs, and AMCARE, and most importantly we got to enjoy OUTSTANDING SPIRITED PLAY!
Since Spirit is the essence of our game, we revamped our prizing structure to honour the top Spirit teams of the weekend, as selected by their peers. Each team will receive a $100 Gift Certificate from GAIA, $25 Gift Certificate from Daredevil Discs, and a $25 Gift Certificate from AMCARE. Teams can contact TUC Head Office to collect their prize. Here are the 2006 Mid-Season Tournament Spirit Winners!
A Pool: SMUT
B Pool: Floppy Discs
C Pool: DIRT
D Pool: Kung Fu Hustle
E Pool: SPIN
F Pool: Release the Hounds
Thanks to all of our mighty volunteers and participants for making this weekend a successful and fun tournament! Here are some pictures from the weekend, compliments of craigstephenphotography.com.
Summer Playoffs
Congratulations to repeating Monday champions Mandrew who defeated Ruckus, and new Tuesday champions M.O.B. who held on for a victory over N.B.F. Craig Stephen has posted his photos from Saturday and Sunday.
Monday: Mandrew

Courtesy Craig Stephen
Tuesday: M.O.B.

Courtesy Craig Stephen
Congratulations to Wednesday champions Sweet who defeated Pee Wee, and Thursday champions Turd Ferguson who defeated Huck Finn. Craig Stephen has posted his photos from Saturday and Sunday.
Wednesday: Sweet

Courtesy Craig Stephen
Thursday: Turd Ferguson

Courtesy Craig Stephen
Fall
Fall Outdoor Sunday League Championship
There couldn't have been a nicer day to wrap-up fall league, with barely a slight breeze and temperatures reaching up to 14 degrees! Each of the six tiers hosted semi-final games, with the finals as double-headers. There were a few upsets on Finals Day, but also a bit of the same 'ol thing. Red October, winner of the last 4 Fall seasons and 7 of 8, kept the dynasty going by winning their FIFTH Consecutive Fall League Title. Fittingly, the new "Barley & Hops" Fall League Trophy was presented to team captain Harry Burkman, for whom the trophy is named. Red October also received a $200 Gift Certificate from GAIA, TUC frostie discs, and rumour has it there were a few free beverages at the after-party! Congratulations to Red October and to runner-up Ninjastars who provided a gutsy performance in a thrilling 15-13 game.
Thanks to all teams who participated and to our Fall League Convenor Warren Foltz for his continued service to the Club! Pictures from the tier 1 semis and final have been posted, courtesy of www.craigstephenphotography.com.
Here are the Tier Winners for Fall Sunday Co-ed Outdoor League:
Tier 1: Red October - 5-peat!

Courtesy Craig Stephen
Tier 2: Mad Flanders
Tier 3: DIRT
Tier 4: Dark Force
Tier 5: Les Chapeaux
Tier 6: Hazardous Play
Fall Outdoor Wednesday League Championship
Congrats to Gristle (Men's League) and The Jane Logan's (Women's League) on their Wednesday Outdoor titles. Each received a championship disc trophy and a gift certificate from GAIA. Pictured below are The Jane Logans, who defeated Torontula in a hard fought final 7-4.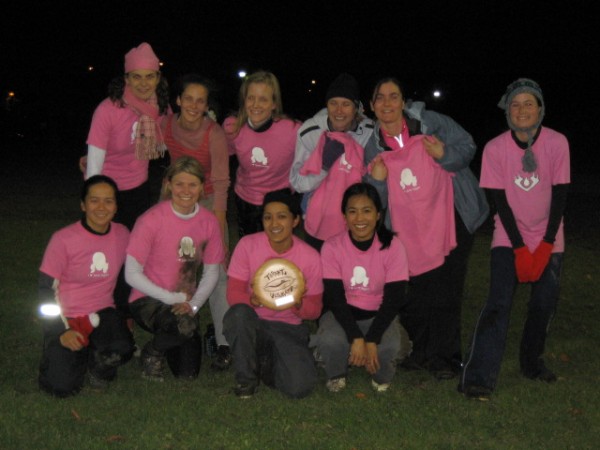 Fall Indoor Tuesday League Championship
Congratulations to Big Hammers GFY who captured the Tuesday Fall Indoor League Championship. The Hammers upset RUMP in the semi finals and then Turd in the finals. The final score of 25-19 was indicative of the staunch defensive effort by both teams, and the game was very close until the final minutes. For their big win the Big Hammers took home a wooden trophy disc, GAIA Gift Certificate, and Canada Ultimate t-shirts from Daredevil Discs.
Tuesday: Big Hammers GFY

Fall Indoor Thursday League Championship
Congratulations to The Mutt, who defeated Bury the Bone in the Tier 1 Finals 41-36. Mutt played consistently throughout the season and took home a GAIA Gift Certificate and Daredevil t-shirts. Their name will also be added to the John Harris Hogtown Indoor Trophy, as Fall Indoor Champs. Also a big congrats to Duck the Fog who won the Tier 2 division. In defeating Huck Puppies 36-30 the team took home a trophy disc and GAIA gift certificate.
The Mutt: Tier 1 Champs

Duck the Fog: Tier 2 Champs

2006 World Ultimate Championships
The World Ultimate Club Championships in Perth, Australia finished up on November 18. Canada was well-represented at this year's World's with Toronto touring teams Bombing Madd Fatties and Too Bad proudly playing for the glory of the maple leaf. BMF went 2-1 in the first round of play, then went 1-3 in second round upsetting the #4 seed Ebisu from Japan to sneak into the round of 16. They then proceeded to upset # 1 seed Mischief in the first round of the playoffs, sending shockwaves through the tournament. They ended up in 8th place out of 40 teams, a great result for the mixed team that finished 3rd at the Nationals. Too Bad finished in 20th place and 2nd in spirit in the open division.
Team Fisher Price from Vancouver won the mixed division and three other Canadian teams finished in the top 20 in mixed play.

Team BMF on the field in Perth
Humberside CI: Toronto High School Champions
TUC congratulates Humberside CI on successfully defending their Metro Toronto High School Ultimate League title on June 1st at Riverdale Park. In a thrilling game, HCI prevailed 12-9 over Birchmount Park. Congratulations are also in order to York Mills CI and W.L. MacKenzie CI, who represented the north region well by earning two spots in the final four.
Humberside has compiled a 34-2 overall record in the last two years and placed third in the OFSAA Invitational Tournament on May 10th. This record of success, along with great representation by many TDSB schools, bodes well for Juniors Ultimate in Toronto.