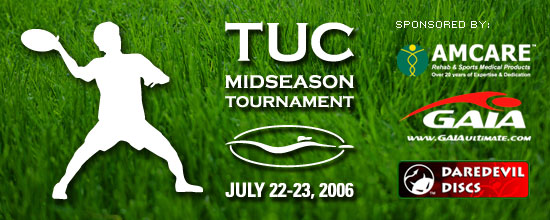 The Toronto Ultimate Club's 2006 Midseason Tournament is a great opportunity for all TUC members and teams to test their skills against players from other TUC Nights & Divisions, and to prepare for the second half of the TUC Summer season and the drive to the Playoffs. And what better way is there to spend a summer weekend than enjoying some spirited Ultimate with your fellow TUC members?
The Toronto Ultimate Club's 2006 Midseason Tournament will take place on Saturday and Sunday, July 22nd & 23rd. All games will be played at beautiful SUNNYBROOK PARK. This one is different from our Hat Tournaments though - you enter your summer TUC team, not as an individual. The tournament is free of charge to all TUC teams, and $5 for non-members (team captains will be asked to confirm team rosters).
The tournament follows the league format, as all teams must be Coed (4/3-3/4). Each team will be guaranteed 6 games over the weekend, with games starting at 8:00am sharp on Saturday and on Sunday. Saturday will be round robin play, with the playoffs on Sunday.
The usual Ultimate tournament amenities (bagels, bananas, oranges, water) will be provided, as well as on-site physio and chiro both days and a special lunch for all registered players at the field on Sunday. Our friends from Daredevil, GAIA, and AMCARE will also be on site to share their product with you! Furthermore, the crew from Xilarate will be on site to keep you hydrated.
Registration opened June 1. The deadline for registration is Tuesday July 18th. Depending on number of teams who register, we may cap the number of teams allowed. Only entries for full teams will be accepted.
There will be a trophy disc for Top Teams as well as Most Spirited, plus prizing throughout, so bring your A-Game!
Schedule & Team List
Saturday Results and Sunday Schedule
Here is the SCHEDULE. Note that with the schedule is important MUST READ INFORMATION! Good luck to all participants!!!
Games start at 8AM so get lots of rest (and proper hydration) Friday evening and be ready to go!
After our games on Saturday night we'll head over to the Madison Pub located near Bloor and Spadina (14 Madison Ave) for some social fun. All TUC members please go to the lower patio area and feel free to head over right after your games or after a quick shower at home. See you there!
Results
Well, unfortunately the rain prevented us from completing the playoffs or our contests, but we had lots of great spirited teams taking home some prizes. Spirit winners received a $100 GAIA Gift Certificate, $25 Daredevil Discs Gift Certificate, $25 AMCARE Gift Certificate and free tickets to the Rogers Cup. Below are your Spirit Winners from the Mid-Season Classic:
A Pool - SMUT
B Pool - Floppy Discs
C Pool - DIRT
D Pool - Kung Fu Hustle
E Pool - SPIN
F Pool - Release the Hounds
Thanks to all of our mighty volunteers and participants for making this weekend a successful and fun tournament!
Midseason Registered Teams
The Big Kahunas
FLOW
Thundercats
Bloor Velvets
So Cut
Hot Disc Charge
Cheap n Easy
Nice Snatch
Those F-In Guys
Airwaves
Kung Fu Hustle
Hootenanni
Pussy Willows
Running with Scissors
Mr. Men + Little Miss
RAID
Release The Hounds
Ultimatum
COOL
Rump Roast
Disc-Horde
POKAI
Dances With Pylons
Compost - The Monday Junior Experience
The Incredible Hucks
Huck Finn
Big Hammers
Ruckus
SPIN
BerZurk
Eleven
DIRT
Floppy Discs
SMUT
The Superfreaks
4D
Banana Cream Pie
NBF
Disciples of Love
Throw Les Vaches
Jonathan
Dark Forces