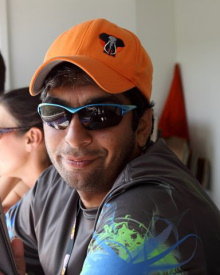 December
Rahil Suleman is the TUC Volunteer of the Month for December 2010. A longtime volunteer and staple of TUC leagues, Rahil has served as convenor, clinic instructor, Touring Chair and Board Director over the past 5 years with TUC. He is currently convening Monday Night Indoor Leagues and serves a very important role on our Operations Committee on the Board of Directors. Rahil is always willing to lend a hand and assist the Club wherever he can. He also helped coordinate our Holiday Tournament on December 27.
Rahil's dedication to the Club has been outstanding and for that we say THANKS RAHIL!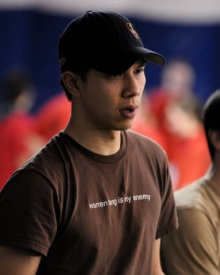 November
Warren Tang is the TUC Volunteer of the Month for November 2010. Warren has been a great volunteer for the Club for years, particularly with clinics and helping players hone their game. Most recently he was instrumental in coordinating our Beginner and Intermediate Clinic in early November. Warren is always a fun and welcoming presence, and he was great at encouraging new players and showing them the ropes. Thanks to Warren for his continued support of the Club!
Want to volunteer for TUC? Contact volunteers@tuc.org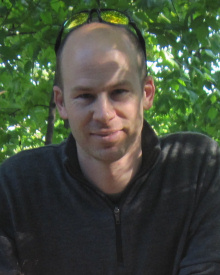 October
Matt Denton is the TUC Volunteer of the Month for October 2010. Matt has been a big-time contributor to the TUC 30th Anniversary events, serving on the committee and assisting with financial controls and various logistics. Matt's contribution to the team helped make the 30th anniversary Gala a major success! He is also our Sunday Fall League Convenor and throughout the month of October has been assisting teams across the city.
Thanks Matt for all your help!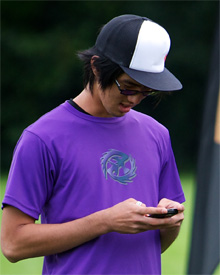 September
Jason Liu is the TUC Volunteer of the Month for September 2010. He was our top volunteer at the TUC Summer Playoff Series, putting in long days to ensure the TUC managers had enough assistance. Jason could be found refilling water, collecting scores, setting up tents and banners… you name, he did it! A TUC Leaguer and MMV touring player, Jason is now on our great list of volunteers – a group of heroes that we cannot live without!
A big thanks to Jason for his help throughout the playoffs and Scally's Cup.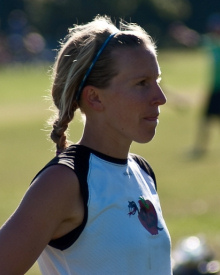 August
Carla DiFilippo is the TUC Volunteer of the Month for August 2010. Carla is a veteran Lotus/Capitals player who, alongside her touring team commitments, has put in countless hours coaching the Juniors touring team Overdrive this summer. Carla was a big factor in helping Overdrive reach the podium (Silver medal!) at the National Championships. This is in addition to coaching her own high school ultimate frisbee team (and volleyball team) and serving on the Ultimate Canada Juniors Development Committee. Carla has also contributed to other TUC events like the Lotus Intermediate Tournament in the Spring.
Thanks Carla for all of your efforts in supporting youth Ultimate and the TUC!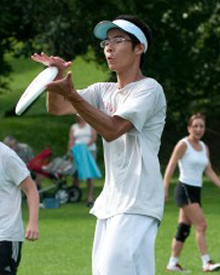 July
Mark Tran is the TUC Volunteer of the Month for July. He was a key volunteer for our Mid-Season Tournament, arriving at the crack of dawn to help with setup and assisting throughout the event with score collection, water running, and member servicing. Mark also participated in the Great Canadian Ultimate Game on July 17, which helped raise funds for Right to Play and the Boys & Girls Club of Canada. In August, he plans on helping out at the Hat Tournament and hopefully at the playoffs.
Mark is a great example of a new member (2010) who has embraced the Club and improved his TUC experience through volunteerism. Thanks Mark!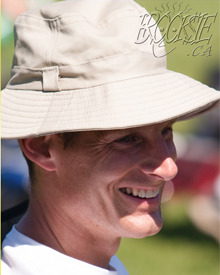 June
Rick McDonald is our Volunteer of the Month of June 2010. As a new convener for TUC Summer League on Thursdays, Rick has taken the role with gusto and helped kick off league to a great start. His friendly and frequent communications to team captains have been spot-on and Rick works hard to post games quickly and as fairly as possible. The role of convener requires a good bit of effort and there has been no shortage here. Rick has been a member of TUC since 2005 and since that time has always been involved in helping out at tournaments and promoting Spirit of the Game. Thanks Rick!
Support your Club by volunteering, it's how TUC was born and how it thrives today. Contact volunteers@tuc.org for more information.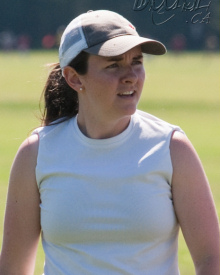 May
Heather Gilmour is our Volunteer of the Month of May 2010. Heather was one of our outstanding Spirit mentors at the recent TUC Spirit Hat Tournament. Her goal for the tournament was to challenge her fellow players, 'to be more Spirited than me' which resulted in her team winning the Top Spirit Team title! She displayed tremendous sportsmanship and leadership throughout the event, going out of her way to make the event fun for all and effectively communicating the value of Spirit and its importance to Ultimate. This was Heather's 2nd stint as a Spirit mentor for the event; as well she is a regular volunteer and participant in other events and leagues.
Thanks Heather! Be like Heather and support your Club by volunteering. Contact volunteers@tuc.org for more information.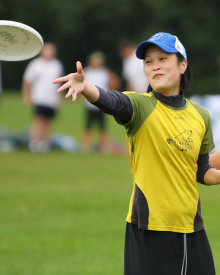 April
Our volunteer for the month of April is Bonnie Lee! Bonnie has been a great help at our recent clinics, taking full control of two of them with great enthusiasm. Bonnie has also been a great resource for getting experienced and enthusiastic coaches out for our clinics. Bonnie has been a great part of the TUC team, a leader in the touring community, and a valuable volunteer both on and off the field. We are greatful for her hard work and dedication. Thanks to Bonnie for helping out to grow our TUC community!
Are you interested in volunteering for the summer months? TUC has a ton of great opportunities coming up! Email volunteers@tuc.org for more information.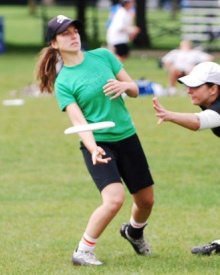 March
Our volunteer of the month for March is Laura Levin! Laura is currently a co-convenor for our 2010 Winter Women's League and has done an excellent job with team communication and scheduling. Laura also recently volunteered to help transcribe video for our 30th Anniversary documentary, which was both extremely tedious and helpful. Laura has always been happy to bring her great enthusiasm and knowledge of the game out to help, from clinics to coaching to park clean ups. Laura is a reliable member of the TUC community.
Thanks to Laura for her hard work and dedication!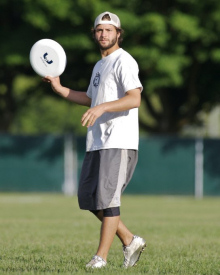 February
Our volunteer of the month for February is Patrick Mooney. Pat was a key volunteer for our "Catch the Spirit" High School Tournament in late February. Whether it was helping to setup fields, score games and report scores, or even cleaning up field garbage without being asked, Pat was there throughout the event. As a result, the tournament went off without a hitch. Pat will also be taking his great knowledge and commitment for the game into the summer as a Team Canada coach for the World Juniors in Germany. Thanks to Patrick for all his great help!
TUC is always looking for more great volunteers like Pat to help with the continued growth of juniors Ultimate. For more info on how to get involved, contact volunteers@tuc.org.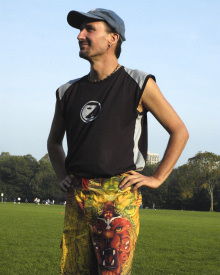 January
Our Volunteer of the Month for January 2010 is John "Wheels" Hurlbut. A long standing TUC member and devotee to player development, Wheels still finds time to help out. Wheels has followed his passion for ultimate, traveling the world to play in over 14 countries. He brought every bit of his love for the game to 3 clinics this month, to teach essential skills and veteran tricks to everyone, from absolute beginners to advanced players. We're fortunate to have him as part of the TUC family!
Thank you Wheels for your dedication to TUC and to player development!
---
The 2010 Volunteer of the Month awards were brought to you by Scallywags Bar, Restaurant and Year-Round Patio. Each Volunteer of the Month received $50 Scally's Dollars that could be used towards any purchase at Scallywags!