The 2010 Mid Season Classic is BACK! Congratulations to Schlitz and Giggles for defending their Mid Season champion title and also to the other bracket pool winners Alotadisc Now and Arm & Hammer! TUC Hunters and Disc-O Stacks were the tournament Spirit Winning teams! Thank you all for participating in the 2010 Mid Season Tournament! Tournament pictures will be up in a couple of days. Here are the Saturday Round Robin Results and SUNDAY PLAYOFF RESULTS for the tournament.
For more tournament pictures, see some Saturday pictures and Sunday pictures courtesy of Ed Kung, and some Saturday pictures and Sunday pictures courtesy of Andrew Gater.
Bracket Pool A Winners - Schlitz & Giggles
Bracket Pool B Winners - Alotadisc Now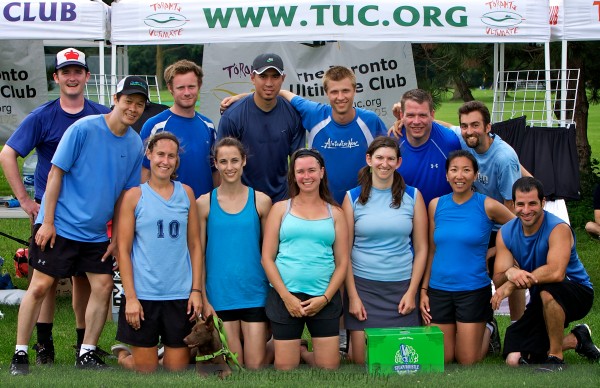 Courtesy Andrew Gater
Bracket Pool C Winners - Arm & Hammer
Spirit Team Winner - Disc-O-Stacks
Spirit Team Winner & 2nd place overall - TUC Hunters
30th Anniversary Celebration
We also hosted a free CUPS competition, as preview of our highly anticipated 30th anniversary celebration. In case you aren't yet aware, this year TUC is celebrating 30 years of Ultimate in Toronto. We are hosting an outdoor celebration event on September 12 and an indoor gala event on October 22. Tickets are now on sale for the October 22 gala event. The first 100 early-bird tickets are only $40 (after that they go up to $50) so buy a ticket this weekend!
Anyways back to the CUPS competition, teams are made up of two players, one male and one female and the games are played to 11. There were 8 teams in the competition and at the end, EXTRA Blue Smurf beat out Floppy Disc to claim the CUPS title! Congratulations to EXTRA Blue Smurf and for winning the CUPS competition, they got some awesome TUC apparel AND a chance to PLAY A SUPERSTAR/CELEBRITY CUPS TEAM ON SEPTEMBER 12 AT THE OUTDOOR CELERBATION EVENT! So put it in your schedule now. You don't want to miss out!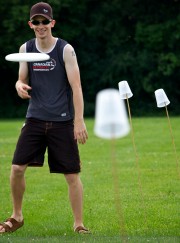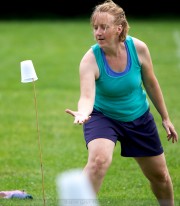 Courtesy Andrew Gater
Event Details
Dates: Saturday July 17 and Sunday July 18, 2010
Times: Sat 9am - 8pm, Sun 9:00am - 6pm
Location: Sunnybrook Park
Format: 7-on-7 co-ed regular pull format, games to 15
Level of Play: Recreational - Intermediate - High Intermediate
Cost: FREE for TUC teams.
Registration: Opens June 14th to July 14th at 11:59pm.
Contact: events@tuc.org
The Mid Season Classic, a tournament only for TUC summer league teams, is a festive environment and a great opportunity for teams to experience tournament play and work on their skills. The tournament is FREE of charge to TUC teams! Teams will play a minimum of 5 games (3 on Sat, 2 or 3 on Sunday). Format is regular pull, 7-on-7 co-ed however games only go to 13 (or 15) instead of 17.
Brought to you by