FINAL RESULTS - 2012 MIDSEASON TOURNAMENT
Midseason Tournament Field Map - Midseason Tournament Rules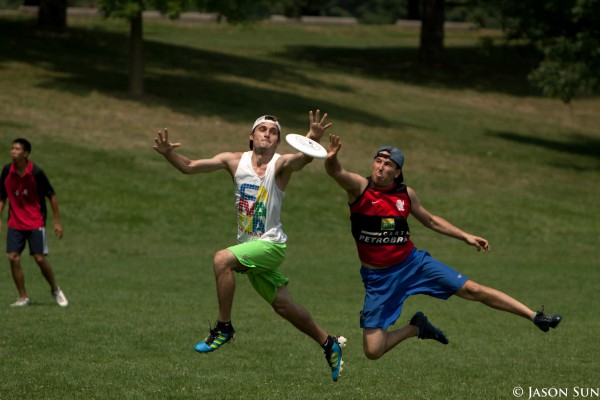 Courtesy Jason Sun
The Mid-Season Tournament took place on July 21st and 22nd. The weather was beautiful all weekend long at Sunnybrook Park setting the stage for some great Ultimate and spirited play. 26 TUC teams played in the Midseason Classic for the right to add their team name to TUC's new Midseason Champions trophy.
Round robin pools took place on Saturday where teams got to experience different level of competition. Teams broke off into three playoff tiers for Sunday.
Here are the results of the final matches:
Tier 1 - Ninjastars Alumni 12 v. Ronin 9
Tier 2 - Strangers w/ Candy (WED) 12 v. Going Down the Road 11
Tier 3 - The Funky Drunken Monkey Shrimps 15 v. Godzilla 6
Click on the links to check out more great Midseason photos provided by Ed Kung & Jason Sun.
| | |
| --- | --- |
| Tier 1 Champs - Ninjastars Alumni | Tier 2 Champs - Strangers With Candy (WED) |
| | |
| Photo courtesy Jason Sun | Photo courtesy Jason Sun |
| Tier 3 Champs - The Funky Drunken Monkey Shrimps | Spirit Champs - Force Lions |
| | |
| Photo courtesy Jason Sun | Photo courtesy Jason Sun |
Event Details
Dates: July 21st & 22nd, 2012
Times: games run from 9:00am - approx 6:00pm each day
Location: Sunnybrook Park
Format: 7-on-7 co-ed regular pull format, teams play a minimum of 5 games (3 on Sat, 2 or 3 on Sunday).
All games are 1.25 hours and are played to 15
Level of Play: All Levels!
Cost: FREE for TUC teams
Contact: events@tuc.org
| | |
| --- | --- |
| | |
| Photo courtesy Ed Kung | Photo courtesy Ed Kung |
Brought to you by